Celebrating "Första Advent" with Sandvita in Cape Town

Take Off
Jörgen Wennberg
Sun 3 Dec 2017 12:23
Our berth for the next 5 weeks to come. Lovely view!
Two days after coming into Cape Town and berthing at the V&A Waterfront we celebrated "Första Advent" (first of advent) together with our Swedish friends Sandvita. "Första Advent" in Sweden is the start of celebrating Christmas. All homes in Sweden decorate their houses with Christmas decorations. We had off course brought some decorations with us and this year it was Alex and Inez' responsibility to turn Take Off into Christmas.
This is Louise's surprise every year for Alex and Inez: an active Christmas calendar. As usual we wrap in already existing toys like these ugly teeth…
…. or anything they use every day, like their tooth brush. One day they also got toilet paper! This is for them to understand the value of the things we take for granted. This is how happy they are over this year's calendar.
For lunch we had made our traditional Janssons Frestelse, however we call it Jörgen's Temptation for our sailor friends. As usual Sandvita being the biggest boat, we ended up having our lunch there. Alex with Lars and Josephine with Niklas.
We had a lovely first of advent lunch in Sandvita's cockpit.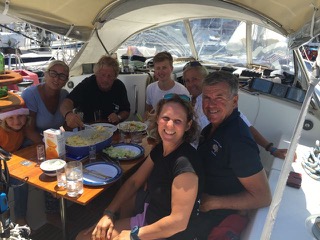 In the afternoon we made a short brake as we had promised Alex and Inez to bring them to the " 2 Oceans Aquarium" being just opposite where we are berthed. We came just on time for the shark's feeding.
Alex and Inez found this special aquarium with plenty of Nemos, the clown fish.
Walking back from the aquarium, we passed these sea lions sunbathing in the sun. They are just opposite our boats and have their home in the V&A Waterfront.
Coming back to Sandvita it is time for Glögg and the Lusse bulllar, made by Anne and Åsa.
Enjoying Glögg and Lussebullar all togheter!
---