All weathers on the Pacific

Take Off
Jörgen Wennberg
Mon 7 Mar 2016 00:08
7.07 S
98.55 W
The Pacific as well as all other oceans offers a wide range of weather, colours and circumstances to sail and not sail. When we finally reached the Trade Winds, DAY 6, we sailed approx in 7-8 knots. When we frist started to notice our position in comparison to the rest of the fleet we were in position 21 out of 32. For every day we took 1 or 2 positions sailing approx 165 NM up to 190 NM at the most for 24 hours. We received twice a day position reports by mail at 8.00 UTC and 20.00 UTC. With this we could easily see how many NM (miles) our fellow sailors were also making per day and which position they had for every 12 hours. This was a fun activity to make time pass and keep on the motivation of sailing at our best. During our last day we had a crazy speed of sometimes up to 13 - 14 knots!
This first sequence of pictures are taken in a row. We first saw these beautiful clouds just above us:
Then the sun started to set behind a coming squall finishing off...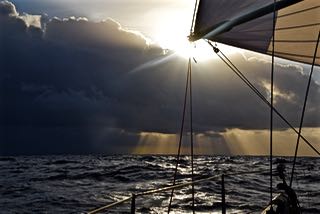 ... in a magnficient sunset with a burning sky from yellow to purple!
DAY 9 we took up the spinnaker and managed safely to sail it for 5 days in a row, day as night! So much fun, keeping chewing miles and having more stability in the boat.
A few times we had some squalls (rain with wind for a short while). For some this was really fun!
For others they preferred to stay away from the rain.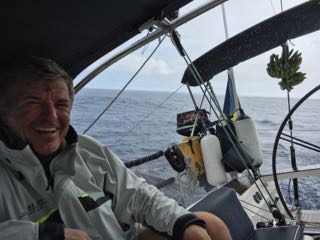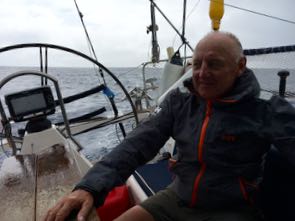 Some more sunset pictures
---