Prize Giving Dinner Leg 1 St Lucia - Santa Marta

Take Off
Jörgen Wennberg
Tue 19 Jan 2016 03:09
The last night before leaving Santa Marta the Harbour of Santa Marta had organised a lovely dinner at the Yacht Club of Santa Marta hoisting all the World ARC fleet, approx. 120 people.
It is to gather the whole fleet and share memories from the first leg as well as gathering everyone before the next leg.
The prizes are divided into 3 groups, one for the multihulls (catamarans) and two for the monohulls. Take Off is classified in the toughest group A of the monohulls. Thanks to the weak
winds in St Lucia for the first 24h many boats chose to go by engine. As a principe Jörgen would never do it unless it is really needed so we continued floating around in 3-4 knots that first
night not knowing that this would be our lucky strike. The second day when our boom broke and we didn't manage to get a grip of our spinnaker due to the spinnaker boom not working
properly we though well why not join the other ones and go for the engine…. that's when we realised the engine was down due to the cooling system not working. So we had no choice
than to continue sail it the proper way! So thanks to the weak winds and our engine down it showed that as we were one of the few boats not motoring ….. WE WON LEG 1!!!
Guess who were most happy and proud to get on stage…. Alex and Inez!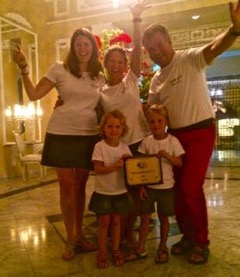 ---