One of the most beautiful beaches: Champagne Bay

Take Off
Jörgen Wennberg
Fri 24 Jun 2016 20:06
We had been advised by our Swedish friends on Spirit, Erik and Pia, that we had to visit Champagne Bay in the Yasawa Group of islands.
And so we did: The beauty and the Magic of Champagne Bay! The pictures talk for themselves...
According to Fijian traditions you have to search for the Chief of the Village, in this place called Votua, owning the bay or the beach where you want to anchor and ask for permission to anchor. So we went for an adventurous walk searching for who we knew was called Mosese. We did not really know where the village was or exactly where to find the Chief.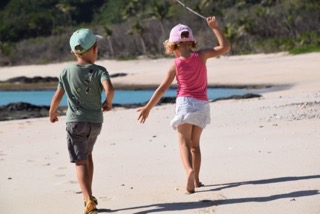 After some walk we found a few "houses" and asked for Mosese. We were quite lucky to find him straight away. He was friendly as all Fijian people are and we gave him our "cava". It's a root called cava that you give as to recognise and respect the fact that you are allowed to anchor in their water. We had nice chat and he did a short welcome ceremony. Alex and Inez were very quick as to ask what had happened to his right arm…. In 1992 he went fishing and the most common way to fish is to snorkel and to spare fishing. This day he was unlucky to meet a shark, however lucky that the shark only took his right arm and a bit of flesh of his left arm. What a story !
We went down to the beach where the Chief told us to wait while he went off to fetch people from the village.
Meanwhile we did our own sightseeing tour ….
The view from the kitchen and the kitchen.
Alex and Inez doing their own exploration.
And so he did, the Chief came back with a few friends.
Again more lovely people welcoming us to their beautiful beach, picking coconut for us and showing how to cut them up (remember when Jörgen was drilling to get into a coconut in the Tuamotus!)
Getting up and….
… sitting comfortably and..
…. and getting down.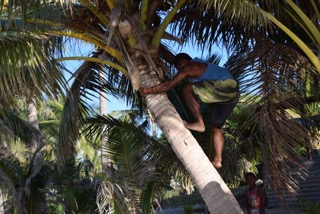 Now for how to cut a coconut!
Don't know if Alex and Inez like the coconut milk…?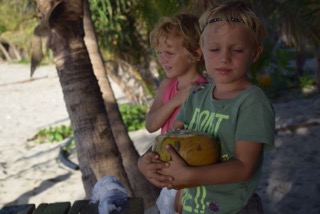 And now for Jörgen!
Knox being Alex's new friend… giving him the chance to pick his own coconut!
A proud boy!
Now for Inez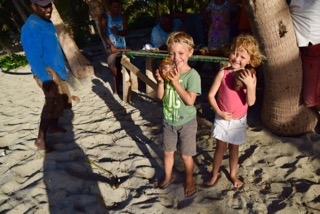 Now for the real lesson!
This was great fun!
Now for some coconuts!
Now for Inez's lesson supervised by both Alex and Know haha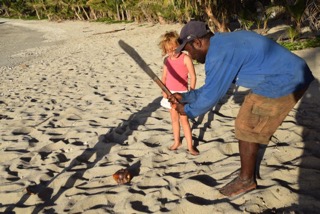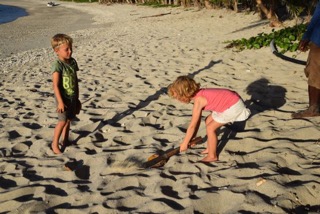 I want some more coconuts too!
The village kids have a good entertainment!
A great afternoon on Champagne Bay. Good bye for today! See you tomorrow!
---