Baleine Waterfalls on St Vincent and Sailing back to St Lucia: The Pitons

Take Off
Jörgen Wennberg
Fri 23 Jan 2015 21:44
Our last stop on St Vincent went to Chateaubelair. As usual we expected to be welcomed by several different "boat boys" wanting to offer their services: mooring lines, selling fruits, vegetables or bread, cleaning the boat, etc. This place was like coming to a gost bay. No other boats at all in the bay and no "boat boys".
St Vincent has unfortunately the reputation to not be very safe: burglaries and people taking advantage of foreigners. However the country is proving to be better but tourists are still afraid. We needed to get in touch with someone who could bring us to the Baleine Waterfalls (North of the island) as the anchorage there is unsafe and the only way to get to the waterfalls is by sea. Finally we found a guy paddling on his surfing board and he managed to get us a speed boat that could bring us both families Chili and Take Off to the Baleine Waterfalls. That was a ride!!!
Gustav, Alex, Asta and Inez
Anders, Tina, Signe and Jörgen
Beautiful sceneries all along the cost up North.
Once anchored with the speed boat there was a little hike to the Baleine Waterfalls. The kids managed very well all along.
And what a sight!!
Lovely swim in chilled fresh water. Felt so relaxing!
Our boat boys gave us a few jumping demonstrations.
Nope, too cold…
This is how far we get.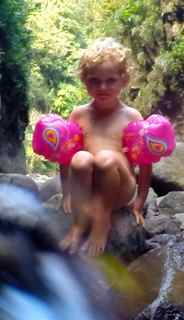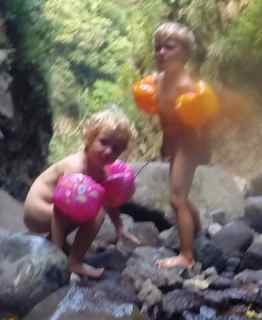 The same afternoon we left St Vincent…
… to head off sailing back North to St Lucia. Sailing towards the landmark the Pitons on St Lucia was breathtaking.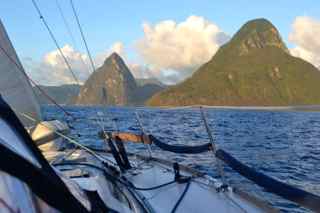 This time we anchorage at the Southern West part of St Lucia between the Pitons, Grand Piton and Petit Piton.
We came just in time to see the sunset and finally the sun dropped in a "clear" sea, that is not in the clouds. Here in the West Indies if you look really close when the sun goes down and don't blink just when the sun leaves the sea you can see a little green spot the moment the sun drops. They call it here the green flash. After several attempts we finally saw it. If you blink you miss it! Have never had so dry eyes looking at a sunset ;-)…
At 18h00 at sunset it's the end of the day for a fisherman.
The next day early in the morning we left The Pitons to head towards Rodney Bay on the Northern part of St Lucia.
---