Diving at North Seymour: the laugh of the year!

Take Off
Jörgen Wennberg
Wed 24 Feb 2016 21:50
North of Santa Cruz and Baltra is the small islet of North Seymour with a typical arid vegetation including prickly pear cacti, palo santos trees and salt bushes. Here is one of the major nesting areas of the bleu footed booby, a ridiculous-looking bird that seems completely unaware that its feet are bright blue!
We were lucky to find a diving centre, the Albatros Centre, with exactly 6 places available on this day. We went round quite a bit and understood quickly that you preferably have to book in advance if you wish to dive a certain day. Yes Galapagos is said to be the place to dive! So off we went, Louise, Jörgen, David, Edvard, Daniel and Cécile. After 45 min driving from South to North of Santa Cruz we arrived at the port north of Santa Cruz and took the diving boat to North Seymour.
Happy boys busting up themselves, so the girls responded the same!
This time we had no one to take the children. This diving centre were so kind so they let us know that is was ok for the kids to come along too. Well why not try? Our Divemaster Christian showed to be the best friend Alex and Inez could get! He played around with them all the time! So happy kids, happy parents.
Jörgen was quite nervous for this dive as the former did not turn out very well. However he did great and was so happy and relieved for this!
Our first dive we saw eagle ray and a whole eagle garden! At first sight they look like sea plants, but coming close you these "worms" hiding into their wholes. They are eagles in their eagle garden. Quite amazing!
During the whole dive we saw sharks nearly everywhere. Amazing! I wonder who was more surprised, this little fish or me?
Happy Cécile and Daniel and Jörgen making fun in front of Christian's camera.
Our second dive was more of a "sea walk". We did not see any sea life apart from a few fish here and there. So we had fun with ourselves instead! Cecile and Daniel being "en amour" ;-)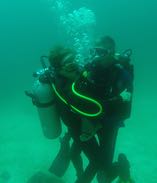 At 15 mins before going up Jörgen was out of air so he took Christian's octopus. However Christian being a more experienced diver Jörgen had hard time to follow him, haha…. Jörgen was literally drawn by the mouth!
Once coming up we heard hurrays from the dive boat. Alex and Inez could not hold themselves and shouted "Mummy Daddy! Guess what ?!?! We saw a hammer shark just by the boat". Nooooo….This is the joke of the year! So much for diving haha… and the kids ride was free of charge ;-)
On our way back we all had more laughs with Christian fighting with Alex and Inez. Christian was just like a big kid himself!
This turned out to be a great family day and we are happy for the kids' hammer shark!
---