English Christmas at Chatham Bay

Take Off
Jörgen Wennberg
Thu 25 Dec 2014 23:13
On Christmas day we left Bequia to sail further on to Union Island. We set the sails at 7 am in order to be on time for the traditional English Christmas lunch. We had 29 NM to sail in approx 7 knots… and we made it just on time! This is what was waiting for us… Chatham Bay! As near paradise as you can come. A long beach as well as empty. There is no road access. There are 5 restaurants/bars along the beach, however very very modest. The only way to access to them is by boat.
Our English friends had already made a good recognition of Chatham Bay and found this very simple and easy going guy Tim who owns the restaurant Bollhead. It is much to say restaurant with our European standard. You just need a roof, pillars to hold the roof onto, tables and chairs. A view and a bar!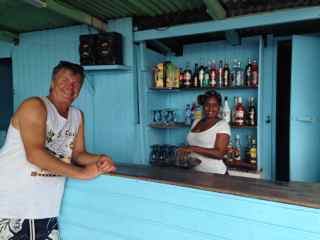 The guests does the rest of the atmosphere! We were totally overwhelmed over the setting of the Christmas lunch. The kids at one table and …
… the adults at another. Both as happy!
The kitchen was outstanding and delicious. Amazing considering the poor kitchen conditions. We spent Christmas with our family boat friends on the
- English boat Aretha (Oyster 53): Casper, Nicola, Bluebell, Columbus and Willow
- English boat Matilda (Hanse 505): Barry, Sophy, Emilie and William
- English/French boat Khujada2: Julian, Albane, Hugo, James and Daisy
Children of all ages having so much fun together!
Position: 12:36.5N 61:25.10W
---