The low tide sunset att Hill Inlet

Take Off
Jörgen Wennberg
Tue 8 Aug 2017 05:35
Our last evening at Whitehaven Beach we decided to stay at Hill Inlet to experience the magical low tide and so at sunset. However coming in to Hill Inlet at low tide also brings along a challenge how to get onshore. We took the dinghy as far as we could and the last 200 meters we had to "walk" the dinghy carrying it (80-90 kgs?) over stones. Walking along the stones Louise nearly stood on this little shark that we think is a leopard shark?
After anchoring the dinghy as far in as we could as we knew that coming back the tide would be back and we did not want to swim out to the dinghy, we climbed up the hill and discovered a magnificent view! The Hill Inlet.
Hill Inlet in the Whitsundays is a stunning inlet located at the northern end of Whitehaven Beach on Whitsunday Island, the largest of the 74 islands in the Whitsundays. As the tide shifts, the white sand and blue hues of the inlet blend seamlessly to create a breathtaking mosaic. The sand being white silica gives the contrast making the colours more bright.
The heavy dinghy walk over the stones and the hill climbing was worth every effort of it! We spent the sunset breathing and breathing and breathing in the view. Never ending until the shadow took over.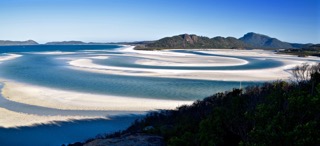 Once we were in the shadow uphill we still could see some sunset light down on the beach so we hurried dow to get the last sunlight.
The sand on Whitehaven Beach is know as silica sand and is very very thin sand, great to do some body scrubbing! Oops… yes we know we should not bring sand back home but a little sand slipped in a little bag.
We had great fun during the last last sunlight for the day!
Thankyou for today sun.
---