Repairs and kids cleaning Take Off

Take Off
Jörgen Wennberg
Tue 17 Oct 2017 12:13
As usual we always have repairs once coming into port. We try to have all these repairs done as quickly as possible so that we then can enjoy the island in a more pleasant way without having our issues hanging over us. This issue below has been haunting us… seriously haunting us since… October 2014! It all started with the start of the ARC 2014 when a few bolts for the upper rudder bearing broke. Since then we have been repairing this fitting several several several times, in Fiji and in Mackay (Australia). The repair we did in Mackay was quite major and we really thought they had solved the problem, which they apparently did not. This time Jörgen decided once for all to fill up the space between the rudder bearing and the fitting with fiber glass. This is where the Norwegian we met yesterday came in and with nothing in exchange gave us what we needed (glass fiber) to do the repairs. Amazing people. With this procedure we managed to stop the movement and pressure on the bolts. Since then no more repairs… yeah!!!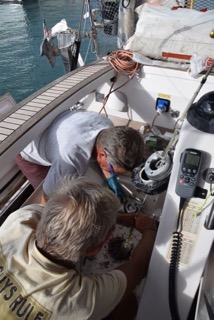 As a routine control, however only 2 days before leaving, Louise went up the mast and did a rig check. That is where she found that the lower spreader on the starboard side was cracked on the inside nearby the mast!! The crack was not worse than that we could weld it. However since there had been a fatal accident with MELDING in Caudal Bassin it is now forbidden to do such a job on the boat. The welding guy showed anyway to be very busy and could not possibly do the job until next week and when we discovered this, the start for La Réunion was due within 3 days. We also contacted La Réunion confirming that they can help us once we arrive there.
Before leaving for La Réunion we managed to remove the part that was pulling out of the spreader and put together the broken parts with silver tape in order for it to hold all the way to La Réunion.
Just checking that all the sprints are ok.
Some more water leak through the shrouds…
Sail repairs
We love this part: Alex and Inez enjoying very much cleaning Take Off. They did a great job!
Rinsing all the sheets from salt water as well as our cushions.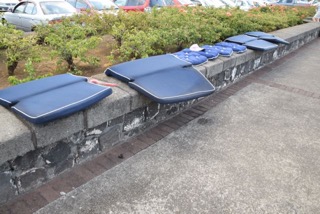 Caudan Bassin with all the World ARC boats.
One of Inez's school work : how to do your now mask with papier mâché, however we always have to improvise and take what we have on board. So we didi it with aluminium instead. Her teacher accepted the change.
---