Last days with Mormor & Morfar in St Maarten and St Martin

Take Off
Jörgen Wennberg
Sat 28 Feb 2015 18:03
Arriving in St Maarten on the Dutch side (South part of the island) our first sight was 4 huge cruising ships, easily hosting up to 3,000 people each!
We had booked a berth at the IGY Marina of Simpson Bay which lies just inside the lagoon. The only way to get in there is through the bridge that opens 3 times a day, so you better be on time. The kids found this very exciting!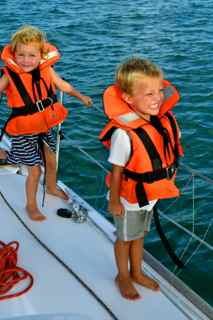 Just as we passed the bridge we heard a huge applause from the crowd cheering from the Sailing Yacht Club that lies just after the bridge. A great warm welcome ;-)!!
While Jörgen is once again checking us in at the customs, immigration and port authority we did some schooling.
As our tradition we hired a car on St Maarten too and made a 2 day trip visit to several interesting places. However we never thought that this place would be so interesting. We seriously thought that only stupid tourists go to this beach to look at planes landing. And there we stood like stupid tourists ourselves fascinated about planes landing…
In the afternoon we drove to the French side, Saint Martin and got stuck at this lovely beach Friar's Bay as the car's battery had totally run out. So we played "yankees up" and "I spy with my little eye something beginning with"… Sometimes you realise that the real time you get is when it is not planned!
The mechanical guy helped us out and we were on the road again. We drove back South towards St Maarten and passed Fort Louis still on the French side where we met our Norwegian friends on Delphia. The kids got really thrilled to meet up again with Jonas, Rebecca, Sara and Hanna! And we got to meet Renate and John again too ;-)! We ended that day with a very last sundowner and a very last movie time for the kids on Delphia. They were to leave further North to the British Virgin Islands the day after.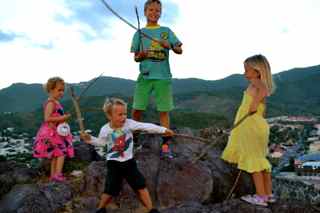 Our second day trip on St Maarten started with a visit to the Zoo of St Maarten. With a bag full of biscuits that we got from the zoo keeper we walked around feeding all the animals we could feed. Inez a lot more curious than Alex…
Our next stop was the Butterfly Farm on the French side, St Martin. This was a lovely experience for all of us! What an interesting visit. We went through the life path of a butterfly, from the butterfly laying its eggs under the leaves to protect them from other animals, to the caterpillar growing bigger and bigger, to the cocooning and last to the butterfly!
Lotta and Jörgen managed to attract one of the butterflies with some honey on the fingers.
Now to something really different. This Butterfly Farm hosted the biggest butterfly in the world. They live naturally in South America. Look at it, it's really amazing!
To realise the size of it look at Lotta and Christer in the background. This is how BIG it is!! We first thought it was fake, but it is really real.
Some kisses are probably a bit too much …
Our last swin with Mormor and Morfar.
For our last evening with Mormor and Morfar Alex and Inez gave them a surprise and disguised into Batman and the Devil.
Then we realised we hadn't changed the flag! So Batman and the Devil went off changing the flag…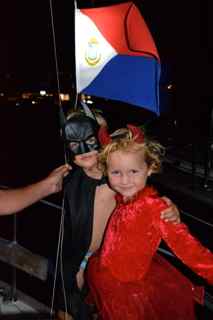 Thankyou Mormor and Morfar for these lovely 10 days together. It was a pleasure having you onboard and we are looking forward to the next sailing trip together with you on our coming up tour around the world ;-)
---