The Crew

Take Off
Jörgen Wennberg
Thu 11 Dec 2014 02:22
THE CREW OF TAKE OFF SWE6222
SKIPPER: Jörgen Wennberg, 62 years. Pensionist. Motto: there are no problems, just solutions to everything. He is the calm in the storm. His wallet keeps walking away from him. Slept wherever he found a spot. Managed to be a father a few moments during the day.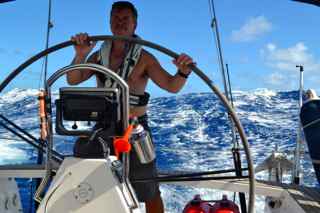 CO-SKIPPER: Louise Wennberg, 44 years. Primary role on board: cooking and taking care of all the kids on board. Dammed all the waves the first days…Managed to find some moments of no "mummy!" and got into the book about the Caribbean Islands
THE SKIPPER'S BEST FRIEND: Johan Franck, 62 years. Alex's godfather. Primary role on board: tidying up the cock-pit and putting in place all the lines. Although his sight and hearing are sometimes failing him, he is an excellent sailor. Had no cabin but he always managed to find a spot to sleep on, in the saloon or the kid's cabin.
Jörgen and Johan have been sailing for nearly 45 years. Johan gave Jörgen in 50th present a sea map over the West Indies to inspire an eventual crossing over the Atlantic. 12 years later the dream came true! They sometimes don't agree on the course or navigation however they always manage to get on track again. Lovely to have had you on board!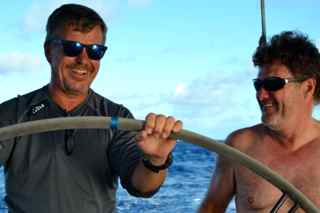 NAVIGATOR: Olof Hermansson Wallentin, 36 years. Primary role on board: navigator, weather man and everything about the technology. We are for ever thankful to Olof for his excellent choice of routes. Thanks to him we managed to climb from 6th place to 3rd within 2 days. Many other competitors were quite impressed by his winning strategy. Technical fixing guy and showing also to be a very good sailor. He got the honour too to dive under the boat to remove the sea weed of the keel causing the trembling on board and off course less speed.
We met Olof at a Christmas party for 3 years ago. We were talking about who were aloud to wear red trousers (only people who's crossed the Atlantic are aloud to wear) and this was one of his wishes in life. The dream came true and thank you for being one of us!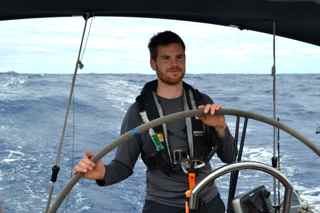 HANDYMAN: Nils Englund, 33 years. Primary role on board: checking, fixing and repairing. Motto: better be safe than sorry. Our own Mr McGiver had everything with him whenever it was needed. Nils also made sure there was enough food on board. You never know when you might not hit an island. Nils showed to be good at everything: sailing, fishing, climbing, cooking and repairing.
Nils was part of Jörgen's crew in Sweden and made a dream come true. We are so glad we had you with us on board, thank you for your skills!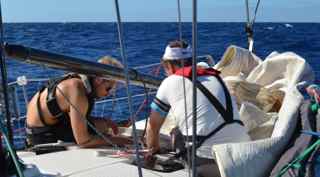 JUNIOR SAILOR 1: Alex Wennberg, 5 years. Totally into maps and positions. Every morning he asked which position we had reached and wondered why we were not first. Once we reached the finishing line he could not understand we only were bronze? He wanted to try out everything the big guys did, such as having Nils' watch at night. And off course stearing too!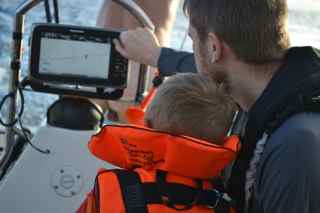 JUNIOR SAILOR 2: Inez Wennberg, 3,5 years. She had a mix of always smiling and a drama queen. What big brother did she wanted to do too. Her motto: "moi aussi!".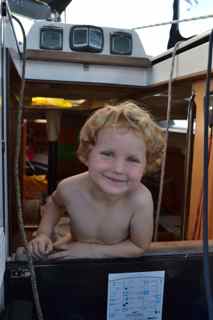 x
CREW NO 8: Helmer (auto-pilot). Primary role on board: giving a rest to the crew. However most of the time Helmer got time off.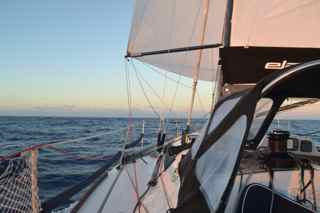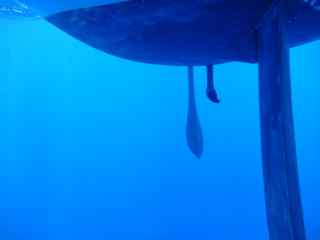 ---