The Magical Morning at Cape Hillsborough

Take Off
Jörgen Wennberg
Mon 31 Jul 2017 13:00
At 5h00 early in the morning
we left Mackay to travel to Cape Hillsborough National Park to see the 3 things everyone comes to see in Australia: beach, sunrise and kangaroos. At Cape Hillsborough you get a kinder egg: all 3 at the same time! It was spooky to come to a pitch dark beach with no lights.
We had to keep silent as possible, stand still and slowly get our eyes used to the dark so we could see the kangaroos and the wallabies (the kangaroos smaller cousin) on the beach. Every morning at this time of the day before sunrise the beach is visited by these friendly and funny animals.
Cape Hillsborough is a National Park where the keepers make sure the kangaroos are well kept. Every morning they are there to make sure that the visitors respect the animals.
This view is breathtaking!
The magical moment when the sun rises.
This morning we saw the big kangaroos fighting with the smaller wallabies.
Not happy the smaller one left the beach after turning a few times.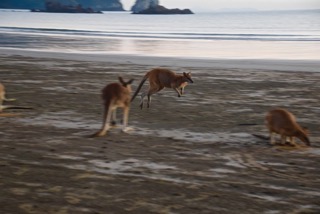 The bigger one …. philosophing?
This wallaby carries her baby. Beautiful!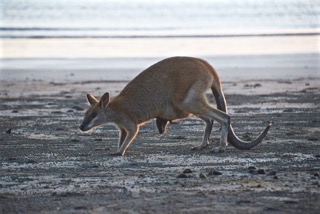 The lighter it gets the more wallabies and kangaroos are leaving the beach one after the other.
WOW! What an experience!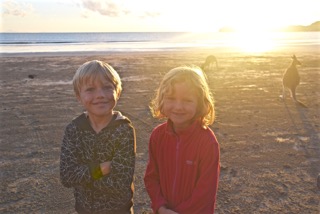 Bridget, the Social Kangoroo, is apparently always the last one to leave, too curious about the people on the beach.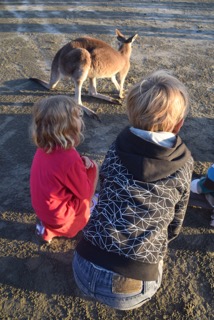 Who wouldn't stay for a little cuddle ?
Louise and Bridget.
"Take Off" and Dirk and Bettina on "Ain't Fancy" together sending their wishes to the World ARC fleet 2016-2017 having a get-together week-end at Wishanger Manor where many of the friends from last year were gathering together!
---