Diving at Kicker Rock

Take Off
Jörgen Wennberg
Fri 19 Feb 2016 19:33
One of the things to do in Galapagos is to dive! We got the privilege to go diving at Kicker Rock which is to be the best diving in San Cristobal. Cameron on the yacht Kristal was more than happy to take the kids and gain some extra money for his sailing trip. So "kids free" for a day!
Kicker Rock or Leon Dormido, also known as the Sleeping Lion because of its resemblance, is located off the coast of San Cristobal. The remains of a lava cone eroded by the sea, the two vertical rocks rising 500 feet from the ocean form a small channel that is navigated by small boats. This Galapagos Islands natural monumentj has become a favourite sight for visitors due to the many tropic birds, frigates and boobies that fill the surrounding air. Beneath the sea the nearly crystal waters offer a brilliant show of colourful fish and invertebrates.
After a boat ride of 45 minutes we reached…
… Kicker Rock!
At first sight the sea seamed calm however once we approached the rock the sea became quite roly making the dive a bit tricky. Jörgen who only had 10 dives since he took his certificate last year in Grenada gave it a chance but took the wise decision to stand by and step out of the water.
Once we came down the first animals we saw were Eagle Rays swimming above us!
Then a sea turtle turned up with a company of "cleaning fishes".
We then dived all the way down to the sea bottom, being "wavy" due to the strong current. Amazing!
On our way up we saw more wonderful sea creatures.
… and more sea turtles.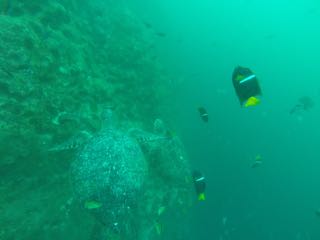 For our second dive we got the privilege to see a black tip shark!
Happy divers ;-)
In the afternoon we visited Heidi who already had some visit ;-)!
---