Dolphins, Wales and the breath taking Whitehaven Beach

Take Off
Jörgen Wennberg
Mon 7 Aug 2017 13:12
Jörgen came "home" late last evening from Sweden having spent 63 hours flying back and forth and 48 hours mainly to visit his mother and sister and then driving up to Gothenburg from Malmö to buy spare parts from Seldén (The missing front part of the mast that Yacht Help in Fiji had missed to put back on again)! Saturday morning we went through the reparation of the rudder and we said that we have to be accurate checking out the work being done on the boat considering that Yacht Help had missed out too many things (mast, motor, rudder, etc) that could have caused serious damaged if we had not been alert enough. With this said, Jörgen checked on the work Mark and Richie had done on the rudder…. and surprise …. it was still leaking! We called Tim, the boss, and within 1 hour he had sent Mark and Richie from their week-end leave with family to our boat to do the last repairs on the bearing. Yes they had missed one important part which was to put on more fiber glass on the upper bearing. We were meant to leave Mackay on the Saturday 5th of August, however we had to wait for the fiber glass to harden. So we took the chance to invite Terje and Pia on Aurora Polaris and Dirk and Nina on Ain't Fancy for dinner on Take Off. We had a lovely evening together!
Now finally Sunday morning at 7h00 we left Mackay marina motoring our way up North. We had no wind at all which gave us this splendid view over an area called "Dolphins Heads" … where we saw dolphins!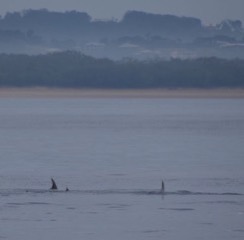 Alex and Inez quickly adapting themselves to the boat life after having spent a luxury week at the hotel. It is quite amazing to see how they spend their time on board. There are always games and roles to play whatever space they are given on board. Kids adapt very easily, more easily than adults.
Also it is important to celebrate special days. This day, 6th of August, is Inez' "namnsdag", which is the day of her name. Luckily Jörgen had just come back from Sweden, bringing some Swedish candies!
Motoring is also a moment to spend quality time with the children. Here father and daughter talking Donald Duck language.
We approached Brampton Island where Sandvita and Owl were anchored for the night. Our intention was to give them a quick visit on our way to Hamilton Island where Jörgen's luggage was sent to as it got stuck in Abu Dhabi on his arrival. On our way out of Brampton Island we got this fabulous view over playing wales. We guess it was a mother with its calf.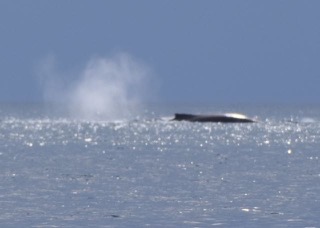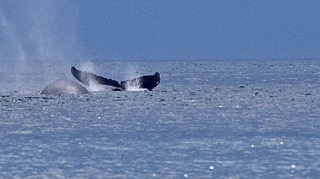 What a welcoming into the Whitsunday Islands! And Jörgen's luggage was just ready to be picked at Hamilton Marina. We set of further North to Whitehaven beach where we spent 2 nights waiting for Sandvita and Owl to join us.
This is what we have been looking forward to since we started sailing again: to swim off the boat. This year Alex and Inez are now swimming by themselves…. and jumping!
In the afternoon we went ashore together with Lars and Anne on Sandvita. 4 months ago, in March, the hurricane Debbie, struck over the Whitsunday Islands and Airlie Beach. This is the disaster we could see over the nature. The hurricane had been striking for over 12 hours in 270 kms of wind! So far here only nature was damaged and we could see already how it worked on recovering. It was worth with Hamilton Island, Airlie Beach and Shute Harbour where we hired a catamaran last year. Shute Harbour is gone and the boats are either on land or sank.
A closer look at how nature has been damaged by the hurricane and how it recovers.
And so came Bill, Mick and Helen from Owl on shore joining us for a swim and a walk.
Walk along the Southern part of Whitehaven Beach.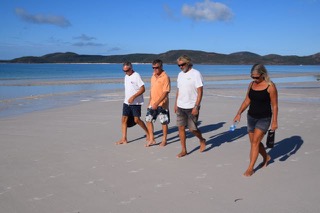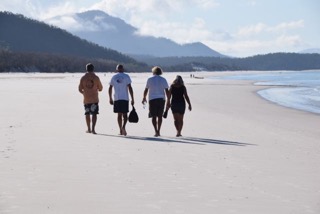 Alex trusting his second Daddy Lasse…. Inez going swimming with Daddy.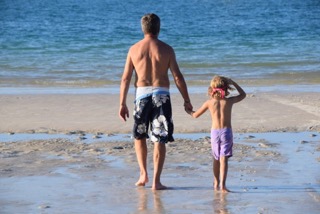 A happy swimmer!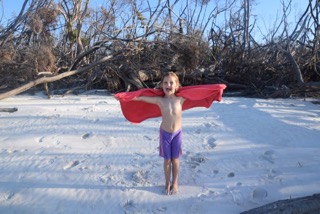 Take Off
The day after we went to the Northern part of Whitehaven Beach.
We took the dinghy ashore and found a part of the beach totally for ourselves!
This is exactly where you understand how the beach got its name: whitehaven…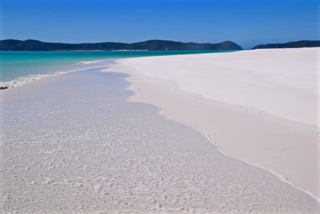 A lovely morning walk along the beach with Lars and Anne on Sandvita.
Alex and Inez new friends Lars and Anne.
Mr and Mrs Bird on a walk.
Heading back and planing lunch...
… on Sandvita!
---