BBQ with Morning Haze and 99 Bottles with PAYS

Take Off
Jörgen Wennberg
Thu 5 Feb 2015 20:15
We were anchored in Portsmouth which lies at the North West coast of Dominica. According to our "bible", the only well informed guide book of the Windward and Leeward Islands written by Chris Doyle, the Indian River Guides formed the Portsmouth Association of Yacht Services (PAYS). This was founded as to be a stronger community against people mistreating the sailors with robbery. If we don't feel safe being anchored in the bay we wouldn't visit Dominica and the guides wouldn't have jobs. PAYS patrol the bay at night regularly, look after if a boat is drafting which actually happened our first night in Portsmouth. A group of young Germans did not anchor their chartered sailing boat properly and both Morning Haze and Take Off could have been hit! So one of the guides took its speed boat and dragged the boat closer to shore. What a service!!!
PAYS has also a shelter with a grill that we asked if we could borrow and contribute them. Off course! So we got together. Morning Haze marinated chicken, 99 Bottles stood for all the starters and Take Off made our usual "Jansson's temptation", Janssons frestelse which quickly was renamed Jörgen's temptation ;-).
The light at sunset is beautiful and the beach at Portsmouth showed its golden colour!
Legs full of running energy!
A former ponton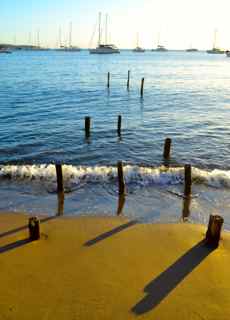 99 Bottles' starters
Simone & Maarten from 99 Bottles, Helen from Interlude, Jean-Charles from Tosca and Isabelle from Morning Haze.
The grill masters Jörgen and Dave!
Rebecca, Isabelle, Alex and Roel.
All 8 starving for their grilled dinner.
A lovely evening with our sailing friends
---