Sightseeing Viti Levu

Take Off
Jörgen Wennberg
Sun 17 Jul 2016 21:59
After Bounty Island we took a whole day on the island Viti Levu and hired a car with a driver, Moni. We sightseed the surroundings of Nadi.

We started with a sunday service at our chauffeur's village. The priest of the village welcomed us into his house where they were to cook for lunch for after the service. Being so welcoming we were welcome here too to come into his house. The priest is also hosting in his house many children from broken families. A man with a great heart!



Now we were to welcome to attend the Sunday service which was also some sort of healing procedure. This service was very emotional for many!
Jörgen wearing a Sula as all the other gentlemen
Marie found a friend, an orphant girl.
Thankyou! What a different experience!
The church
We started of with lunch at Vuda Point Marina where Take Off will be staying over the winter.
After lunch we went off to go Clay Bathing in the Mudpool off Sleeping Giant.
First we grease in ourselves with clay.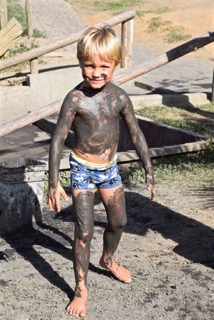 Then we let the clay dry.
Then we helped each other to rinse off our the clay.
Clean!
---