Touring with Sandvita around Lombok

Take Off
Jörgen Wennberg
Fri 15 Sep 2017 05:30
Good morning!
Friday 15th of September we hired a car together with Sandvita to do our own tour around Lombok. We spent a great together with Lars, Anne, Gary and Hans.
From the harbour we drove 2 hours down to the Southern beaches of Lombok called Kuta. It was worth these long hours drive: the beach was stunning with bright blue colours, a white sandy beach and so far not touristy.
As soon as we walked on the beach we got off course approached by the local sellers wanting to sell us t-shirts and typical Indonesian scarfs. Usually we don't buy, but these ladies were so charming and knowing that they do this for a living …. yes we bought some t-shirts & scarfs.
And Inez got her Lombok t-shirt too.
Some were happy to just dip their feet….
… others dared a bit more...
… while one is always in the water whereever she is!
After our beach visit we went for lunch at Kuta beach and found a great place for seafood. It did not look very nice on the outside but coming up in the restaurant we found a very cute place with a nice view.
On our way back we stopped at the pottery fabric and bought ourselves plenty of pottery for our home in Portugal. We are crossing they will make it to Portugal.
A typical view on our way back to the harbour: cows and bamboo houses.
x
Before heading back to the harbour we also made our last big provisioning that is to last all the way to Mauritius as our next stops will not guarantee shopping malls.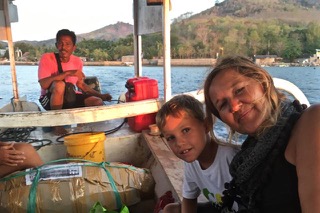 Thankyou for a great day together!
---