The magical swim with Manta Rays

Take Off
Jörgen Wennberg
Wed 29 Jun 2016 20:32
In the Yasawa Group we had hear of this place where you can swim with Manta Rays! However you have to be there on high tide as its when the Manta Rays come along in this tight passage to eat the plankton coming in with the tide. So we left Blue Lagoon early in the morning and sailed down to Mantaray Pass and anchored by lunch.
.
We put the kids in front of a movie (they were very happy!) and quickly jumped into the dinghy in order to catch the high tide which was around 13h00.
Now for the magical moment swimming with Manta Rays! We were apparently lucky. You don't know when or exactly where they come. You try to find a dark shadow from above the sea level… looking looking looking…. and suddenly something big and black under the sea level! We took the dinghy further away as the manta swims against the current and jumps into the water to "meet up" with the current bringing them along the plankton towards the manta. The current is really strong and you need to act quickly when meeting the manta and try to keep up the swimming along with the manta but the current is really too strong…..! So we managed to see a few mantas and made 6 (!) jumps into the water, swimming with different mantas coming along. It was several totally magical moments!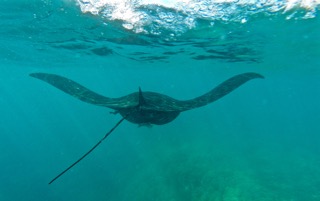 After being so filled up with manta experience we continued snorkling with the current bringing us in a tremendous speed through different fish stall. Beautiful!
For the evening we had dinner at the Manta Beach Resort, a
Backpackers place known for their pizzas… We took the sundowner and the pizza dinner as well a lot of playing around for the kids.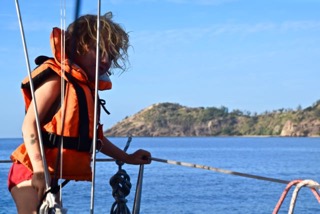 However the lonely time did not last very long haha...
And by surprise a drink was served...
Jörgen totally into his book "The art of hearing a heartbeats". Someone trying to bring his attention...
…
… so we were 2 girls of hunting someone who would like to play with us!
Sundowner and dinner together with Chili Bee
---