Arriving on the deserted and mystic island of Suwarrow

Take Off
Jörgen Wennberg
Fri 20 May 2016 01:01
After 6 days and nights we arrived in Suwarrow on the 20th of May. We were quite exhausted having not slept many hours the last 36 hours! Coming into Suwarrow was less tricky than we thought it was going to be. However Louise was at the front spying for any coral heads or too shallow parts. We were lucky as we came in as the wind dropped totally and there were no waves at all. The water was like a totally transparent film. It was like going through a huge aquarium being able to see all fish, sharks and other marine life from above down to the bottom. Unfortunately Louise was too busy looking for the shallow part so she forgot to bring the camera. We can only try to describe this passage as floating above a huge aquarium. It was an amazing sight!
Coming into Suwarrow we had already a few boats that arrived the day before. They kindly helped us into the passage.
After lunch we did not feel at all to start fixing all the damages after our windy and wavy nights. We wanted to get off the boat, out in the lovely ocean and snorkel in order to fill up the energy we needed to fix everything. We had heard about a wreck so we took our dinghy and managed to anchor just right above it. And what a sight! According to those who know it is an Amell 54 which sank a few years ago after that the anchor had gone loose drifted away, hit the corals and sank!
Just right beside the wreck there was a coral island that we snorkelled around. Beautiful colours!
On our way back from snorkelling we heard that Into The Blue were on their way in, however with no working instruments, such as the depth meter system. So we went out to meet them in the passage. These guys had been a bit unlucky as they had had heavy rain for the last 36 hours. We guess it was the same weather as we were through, though we managed to avoid too much rain. So as soon as they were anchored everything was thrown out on deck to dry!
The day after: fixing and repairing morning! We started by the table. It was holding by the ropes not too fall down, however this was not going to hold long. The crack in the table's foot had earlier been caused by corrosion, so the sheet of the main sail taking the table's leg just made it worse and we had no choice but to change the legs. Luckily we had spare ones as we saw this coming haha...
Alex helping Daddy with the new legs. Erik on Spirit also going on for maintenance.
Then we fixed the haylward to the genua so being the lightest Louise had to go up the mast…. ok, always a bit scary but the view was rewarding!!
Suwarrow is a total remote island. There is no communication and you can only get here with your own yacht. It is totally uninhabited...
…
except for the crab hermit or the so called "coconut crabs". They are everywhere and live only on coconuts.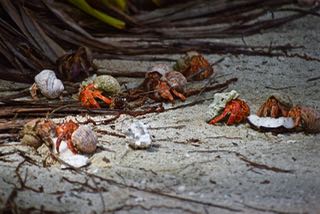 The kids were seriously deadly scared of them and refused to walk through the island as they were everywhere! Luckily they are still small enough to get carried a few 100 m...
Suwarrow was for many years home of a New Zealand hermit. Tom Neale, who wrote of his life in a book "An island to Oneself", lived here for 6 years totally alone. Amazing story to read as he explains how he manages to get food by fishing, planting a garden to grow vegetables (however 5 pigs on the island are his worst enemies and he challenges them…), building what it is needed to catch rainwater, a kitchen and stove to cook and so on. Everything that we take for granted in our civilised world was for him a total challenge to fix to survive. A book worth reading! Jörgen standing by his statue. We entered his house, going through his library, his "office" and his kitchen.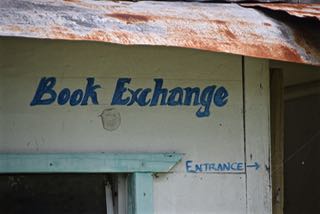 Normally a caretaker and his family live on the atoll for half of the year, their solitude disturbed only by the visiting yachts! They used to arrive in April after the cyclone season is over and get their home set up for the season. However we heard that the wife was not keen to come anymore so far as know, no more caretaker for the moment being… 6 years ago a 2 store building was added to the island. The foundations houses a big water catchment tank that takes water off the large steel roof. The first floor is open and serves as the living and area, now affectioanately called the Suwarrow Yacht Club!
View from where Tom Neale took his sundowner (tea!) every evening.
Suwarrow is a National Park with quite many restrictions. However you wonder what is the big deal when only sailors, probably maximum 40 per year come and make a pitstop for a few days before heading further west towards more civilised islands...
A new palm tree coming out...
After our first landfall on the island and carrying Alex and Inez across the island we had a nice walk along the East coast.
Amazingly and really unfortunately even on a total remote and uninhabited island such as Suwarrow, we find trash …. ;-(. So we start picking what we see and get bag full of rubbish.
We managed to take a walk at low tide and were
stunned by the different landscape.
Coming back to the beach we found this swing that was very much appreciated!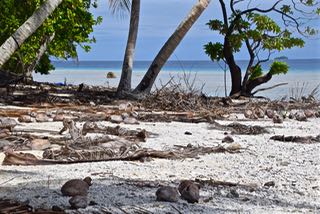 ---