A day's visit in St Lucia with the Canadian family on Morning Haze

Take Off
Jörgen Wennberg
Fri 19 Dec 2014 17:20
After over a week in the marina we finally got a whole day on St Lucia. We hired a taxi with the Canadian family Hayes, Dave, Isabelle, Rebecca and Demi on Morning Haze and we had a lovely tour from Rodney Bay down to Soufrière.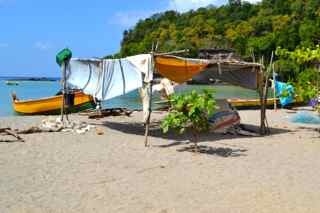 The Pitons (built by the lava from the volcano's eruption)
Waterfalls with water from the volcano. The orange color comes from the big amount of minerals in the volcano water. Happy kids all with ice cream!
The Volcano and clay bath from the volcano. We swam in 38 degrees. The kids were not at all pleased about the warm temperature. Screaming, shouting, refusing, burning….!!! However after a while when they got used to it they didn't want to get out of the water!
---