Arriving in Cocos Keeling Islands

Take Off
Jörgen Wennberg
Mon 25 Sep 2017 14:21
We had anchored just outside of Direction Island as it was not advised to get in there by night. When we woke up we saw that all the rest of the ARC boats had come in early in the morning already all anchored nearby Direction Island's jetty. After breakfast we dinghied into Direction Island where customs and immigration had come from West Island to check us in.
The checking-in procedure.
Next stop was all the information from the World ARC.
Once all cleared in we were totally amazed by the beauty of this archipelago. These pictures are not photoshopped. The colour of the water is really this turquoise blue!!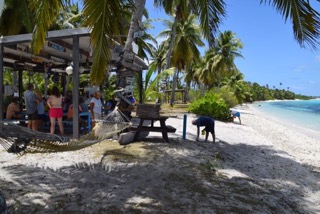 COCOS KEELING ISLAND
This tiny horseshoe shaped jewel lies right int he middle of the Indian Ocean, 2750 km north-west of Perth and 900 km west southwest of Christmas Island, its closest neighbour and another island of the Australian Indian Ocean Territories. The Cocos Keeling Islands were occupied by the Clunies-Ross family in 1827, who established and developed coconut plantations throughout the islands. With them they brought labourers from Africa, China, Java, Borneo and Malacca, a group who now form the Malay community on the islands. Queen Victoria granted freehold title to all land on the islands in 1886, and in November 1978 they became an Australian Territory. The Cocos Keeling Island group comprises of 27 coral islands forming 2 atolls. The northern atoll is a single uninhabited island, North Keeling Island National Park. The main atoll is 24km to the south and is a horseshoe chain of islands encircling a lagoon. Of the 25 ilsands here, only 2 are inhabited, Home and West Island. Both islands have number of services.
DIRECTION ISLAND
The World ARC anchorage is at the stunning "Port Refuge" on Direction Island, found at the NE corner of South Atoll, and the only place where visiting yachts are permitted to anchor in Cocos Keeling. It is an idyllic stop with beautiful clear water, waving palm trees and a mile of sandy beach. There are shelters on the island where cruisers get together to cook supper, drink and exchange tales.
There is even wifi on this uninhabited island!
HOME ISLAND
1,5 NM south of Direction Island anchorage, has a population of approximately 600 Cocos Malay. Here the Muslim faith is strictly observed and the local dialect of Malay is spoken.
WEST ISLAND
4,5 NM west of Direction Island anchorage, has a population of approximately 120. It is the administrative centre for the islands and normal western dress is acceptable.
Inez found quickly her favourite amusement and so did we…. This tiny island had a hotspot and we could buy wifi online! Yes it felt quite awkward to be able to be connected on this tiny island where there are no facilities at all being right in the middle of the Indian Ocean!
As usual Inez takes the lead in getting into the water!
Coming back to the boat we continued to be totally amazed by the surrounding we were anchored in.
---