Tobago Cays

Take Off
Jörgen Wennberg
Thu 15 Jan 2015 02:40
Arriving in Tobago Cays is like arriving in Paradise. Tobago Cays is THE place in the Southern West Indies where the sea's colours go from dark blue to bright turquoise, turtles swim freely and palm trees hang over the beach. Just like in the postcards! However we had heavy winds and quite a lot of rain so we were happy to have had two afternoons with Aretha, Matilda and Khujada2 on the beach.
Just when we arrived on the beach Alex, Inez and Jörgen got to see their first Iguana!
Three ladies off snorkling with turtles: Sophy, Albane and Louise. Here is a spot where we found 2 - 3 turtles. Beautiful, peaceful and majestic!
Activities on the beach: playing ball, the snorkel man chasing…
…slack line (thank you Khujada2) being fun as much for the kids as for the adults ;-)…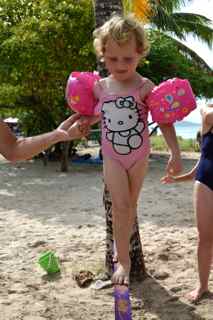 … never under estimate the swing! Amazing Caroline how you managed to discipline the kids ;-)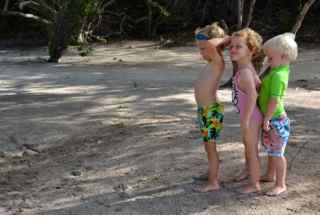 … at least to some extent…
Alex and Hugo
Daisy, Inez (it's not lipstick, it's soda!) and Bluebell
Our ritual at around 17h
This day showed to be our very final day with all the 4 boats together: Aretha, Matilda, Khujada2 and Take Off! Quite sad farewell when Aretha left us for now. We wish them a safe sailing with the World ARC. In a few days they were to leave straight to Panama. All the 4 families together, then all the kids.
Once again Matilda kindly opened the salon for the kids and the cockpit for the adults. The last super together! Thankyou for lovely weeks together. Wish everyone safe sailing ;-)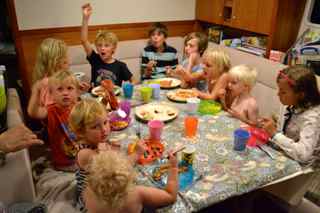 The morning we left Tobago Cays the Bread boat delivered the banana bread and baguette we had ordered the day before. A charming man with a good sense of business and especially service. The banana bread was really worth it!
---