Diving in St Vincent

Take Off
Jörgen Wennberg
Thu 22 Jan 2015 02:36
We left Bequia for St Vincent. However we had managed to clear out just before we met Chili as we had planned to leave Bequia the day after. You are supposed to leave the day you have announced to leave and you have max 72 hrs to leave the country once you have cleared out. We cleared out on the Sunday, left Bequia on Wednesday and went to St Vincent (belonging to Bequia, we hadn't planned to go for St Vincent when we had cleared out) for 2 nights. This meant that we were illegal for 5 nights. Not a big deal for us Europeans used to free passage all around Europe, however here if the customs find you you can be fined up to US 5,000!! With "is i magen" we thought that the diving with Chili on St Vincent was worth it ;-)
Motoring between Bequia and St Vincent. Alex is now proud to be on deck when the sea is calm and that we are not sailing.
We arrived in St Vincent and Anders on Chili had heard about a good diving spot somewhere called "Anchor Reef" nearby two black beaches. To get a more precise location they asked the local fisherman.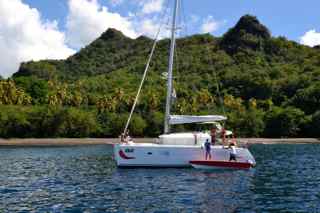 Jörgen and I got the privilege to go first and I guess we were both a bit nervous. Jörgen being his first dive without a dive master and me not having dived on my responsibility for several years. This was all quite exciting!! Anders and Tina has all the equipment onboard: regulators, tanks, vests, fins, masks, weights and compressor. And the best part is that it is very convenient to dive from their catamaran! The extra with diving on Chili is that the kids were also taken off ;-)…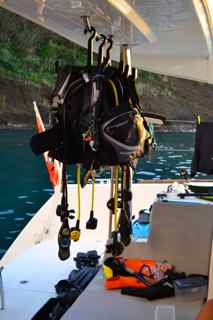 The dive was magnificent! Diving together was extra fun. We dived at the most 12 m and saw a very rich fish life and an amazing "wall" full of fish and sea life to see! However very current and somewhat difficult to come back again. We got two dives these two days.
Tina and Signe's turn.
After Dive - happy divers! Anders, Tina and Jörgen. Thankyou ever so much Anders and Tina for inviting us diving with you ;-)!!
That evening we had a lovely dinner on Chili. Being a catamaran it was very easy to choose which boat to spend the evening on. For the kids there was no doubt - Chili has a trampolin!
Off course we had champagne and Jörgen is showing Asta how to open a bottle of champagne. You should open it so that is sounds like a noble lady is farting.
We were both anchored in a place where there was no civilisation at all along the beach. Amazing how pitch dark it gets already at 19h! St Vincent is a poor country and known to have had robberies, however this was several years ago and according to what people say things are now sorted out. However we managed to scare ourselves up pretty well anyway… So guess our surprise when we heard at 6h30 in the morning people shouting outside our boats! We saw fish boats and fishermen snorkling around Chili. Chili had managed to anchor right above a whole stim of fish! So they kindly moved and we had lovely local entertainment for breakfast.
After 1h30 they were happy with their catch and we got to by fresh fish - very fresh fish ;-)!!
Only some 10 mins later another fish boat came along and they had been diving for lobsters. We have never seen so HUGE lobsters!!! Look at the size! We went for the smaller ones. Jörgen's experience is that smaller ones are more tasty.
Look at the diving gear of these fisherman: only regulator and tank. And they go 50 m to find the lobsters!
For the kids this was fascinating to see lobsters, touch them and see how Daddy kills them.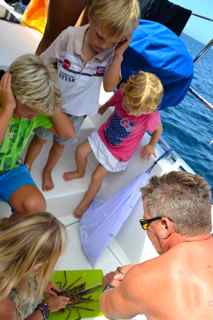 Later on that afternoon before leaving for Wallilabou we saw from far ahead how the beach seemed to be a bit trashed. Jörgen took the honourable decision to go and pick up the trash. However we could never imagine how much and what we found on this beautiful volcanic beach ;-(!! Jörgen, Louise and Signe took the dingy with one plastic bag.
After running back and forth cooling our feet from the burning black sand …
… we went back, got our flip flops and more big trash bags and started do the job. After 1h we managed to fill up 3 bags!! Shame on the people on St Vincent and to everyone who litters wherever they are!!
This is what we brought with us to Wallilabou from the beach next door.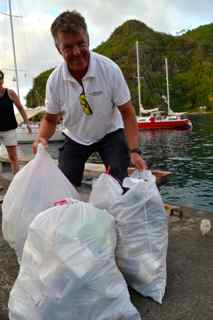 Long lasting love… Asta and Inez
13:12.90N
61:16.60W
---