Arriving in La Réunion and the Prize Giving Cerem ony

Take Off
Jörgen Wennberg
Fri 27 Oct 2017 15:31
We passed the finishing line coming into La Réunion on the 27th of October at 10h57. This was a smooth passage for us with light winds and we use of the spinnaker. Happy family arriving in La Réunion!
Everyone arrived within only a few hours and we are now all docked at Le Port.
The Prize Giving Ceremony is due tonight already so Victor had quite of a job in summarise all the Sailor's declaration on time. However he had some company.
Meanwhile Jörgen went off drying our spinnaker before packing it in the bag.
As usual Victor thanked all the people involved in our stay in La Réunion by giving away a frame with all the names of the boats signed
Dan & Em on Skyelark came 3rd and Dugald and Val on Tulla Mhor came 2nd.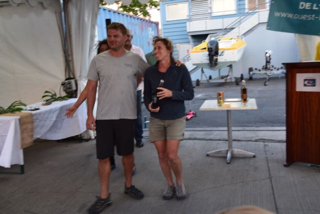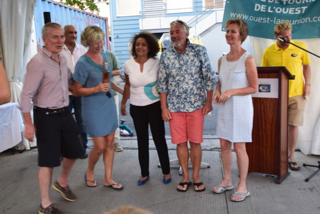 As for us, Take Off, we came first! This is the third time that we managed to come first when not being able to sail with the main sail, haha.
First time was Leg 1 from St Lucia to Santa Marta when we broke the bom after 3 days of sailing and off course we could not use the main sail. We sailed with the spinnaker.
Second time was Leg 9 from Darwin to Lombok when the goose neck broke and off course we could not use the main sail. We sailed with the spinnaker.
Third time was now Leg 12 from Mauritius to La Réunion when one of the spreaders was broken and we did not dare to us the main sail. We sailed the spinnaker.
I guess this must be a winning concept ?!
Zeeland won the ETA competition. For every leg every skipper has to fill in a form with the ETA (Estimated Time of Arrival) he thinks he will come into. The one getting the closest to it will win the ETA competition.
The tourist office arranged a lovely dancing performance for us with traditional creole music and dancers.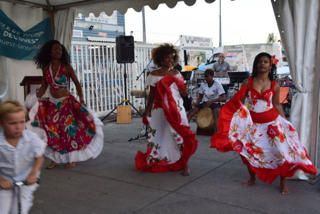 We spent a beautiful evening with drinks and finger food talking to locals and...
… enjoying sharing experiences about this shortest leg of the whole circum navigation. The picture to the left we have Owl with Bill, John, Eleanor and Tom. The picture to the right is Gary on Sandvita with a crew member from Skyelark.
Next morning we hired a car for the whole week and went to the big shopping mall. La Réunion is a French department, which means it is totally French, we are actually in France and in the EU, which we could easily tell by the shopping mall. We think that 2 small things were quite thrilled by the shopping mall and everything in the shops!
Later on we drove through Le Port and ended up at this restaurant, "Le Gillou" where we had a wonderful lunch and ended buying from the kitchen a whole piece of smoked marlin.
---