Guadeloupe in one day

Take Off
Jörgen Wennberg
Fri 13 Feb 2015 16:34
After a few days in Les Saintes we went together all 3 boats to the Marina Bas-du-Fort nearby the capital of Guadeloupe Point-à-Pître. It was actually nice to come into a marina, doing some laundry and being able to brew proper coffee with our Nespresso machine that we only can use in a marina when we are connected to 220V. Amazing how simple things as home made good coffee can be such a luxury ;-).
Our last day in Guadeloupe we hired 2 cars and drove through the West part of Guadeloupe visiting more waterfalls and hiking through more lush and muddy paths.
Here we are just about to start a walk to Le Saut des Lézards, being a nice waterfall. It looked quite simple in the beginning but quickly it became really muddy and we met people on their way back with mud from top to toe. Once again not being well prepared, only waking in our flip flops and with the kids we turned around after 10 mins.
Our next stop went to Les Cascades des Ecrevisses which was a more civilised however off course much more touristic. This suited us better today still having the long walk from Dominica fresh in our legs. The waterfalls were a 3 min walk from the parking lot. The water was fresh and we had a nice walk through the river.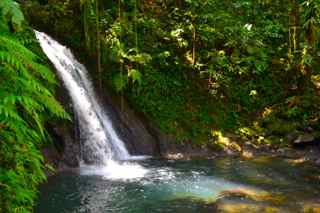 Our second stop driving Route de la Traversée through the West island of Guadeloupe called Basse Terre (however it's the mountainous one compared to the East island being totally flat) was at Les Mamelles. This was also said to be a short walk. Although we hade been trusting other notices before showing afterwards being a bit underestimated we still trusted this one too…. ha, ha… this walk was quite steep, muddy too and long. Once again the bigger kids showed compassion helping the smaller kids ;-). Rebecca being so sweet to Inez.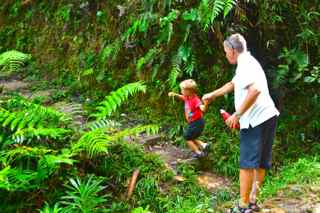 Once on the top it was a nice view over the East island of Guadeloupe called Grande Terre.
On the way back down some procedures just make it more simple.
After our once again not planned long walk we drove through the rest of the island to the West coast and ended at a charming restaurant Le Reflet. We arrived quite late, at 14h30, asking if the kitchen was still open. A white lady came out saying sorry the kitchen just closed. Within a second a black lady came out and said "Off course we're open however some dishes are finished but we can still serve you lunch". The lunch was simple and delicious. The white lady was our servant wanting to finish off her day quickly and the black lady was the owner and the chef of the restaurant wanting to serve more hungry clients.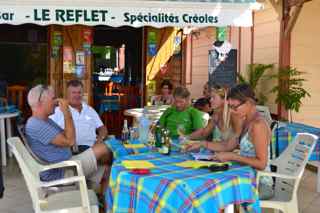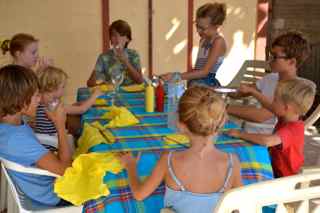 Our last stop on the way back to the marina was at Deshaies. We also found beautiful insects in the bushes.
---