Preparing the crossing of the Pacific. Leg 4 Galapagos - Hiva Ova

Take Off
Jörgen Wennberg
Tue 1 Mar 2016 23:30
Sailing back from the island of Isabela to Santa Cruz we are finally coming to the point of preparing the longest crossing we will ever do during our circumnavigation: 3100 NM through the Pacific = approx 5 700 km = from the North of Sweden to Ethiopia!




In Galapagos you cannot just fill up your boat with any amount of diesel you wish to have. You have to first apply for a permit with the exact amount of diesel you have to buy. If you want to increase the amount you have to apply for a new permit which can take make many days. We got the accurate weather forecast 2 days before giving us light light light winds for a few days before finding the trade winds. Counting on the amount of diesel we hade applied for, this was going to be a challenge for us. We do not only need to run the engine to go forward when the wind is missing, however also to charge the boat's batteries in order to have a functioning GPS, fridge, freezer, autopilot, VHF radio… This permit applies also to the local people of Galapagos. The use of diesel is strictly controlled. However anywhere there are restrictions, there is also a black market. These sentences now are not be red by the Galapagos authorities… we managed to fill up our extra jerry cans, the red ones below. A few thousand miles and many days later on, this showed to be necessary! The picture to the left is the diesel boat filling up our legal diesel. The other one we are very happy we thought of the black market!



Provisioning at the local market for fruits and vegetables for 20 days for 4 adults and 2 kids on board. Which fruits last longer? How many to take of each? Pineapple and papaya have to be eaten within the first days. Pepper, tomatoes and cucumber within the first 10 days. We bought a whole leaf of bananas, approx 40-50 bananas. We bought them green, however they ripe all at the same time! So we hade bananas for breakfast, pancake bananas, banana cake and a few fell naturally in the sea. Apples and carrots last the longest. We still had a few apples left while arriving in Hiva Oa.
Our last pictures of the Galapagos!
This one is taken in the harbour of Santa Cruz: a little black tip shark!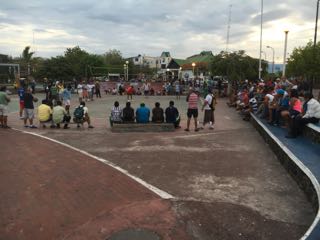 This picture below is taken at the shop "Lonesome George". A project where all the benefits goes to preserve the Giant Tortoises of the Galagapos. Could not resist taking this picture and try to remember this as often as possible.
Only a few hours before start: the crew of Take Off with David, Edvard, Alex, Inez, Louise and Jörgen.
The 2nd of March we started our Leg 4 : Galapagos to Hiva Oa in the Marquesas. 3100 NM ahead of us. How many days will this take us? We had calculated at the most 20 days. However Jörgen had predicted 18 days and 5 hours which as a fun thing all skippers have to fill in a form and hand in to Rally Control before start. Exciting….
Our start was a bit dramatic due to the fact that we did not managed to lift our anchor. It was totally stuck in the harbour's mud. So running a bit late to the starting line we managed to cross it only a few minutes later after the gun was shot for the start.
This picture is a lovely one of the Belgium yacht "Waterman". The skipper Tom was very happy and asked to have as his Facebook front page ;-). Just like a front page of a sailing magazine… thankyou!
While the whole fleet chose a Easterly path we dived Southerly to hopefully meet the Trade Winds earlier.
Only a few hours later we had our first reparations among many many many to come…. Jörgen had to saw the forestay profile that had been damaged on top as it had been caught in a haleyard while rolling the jib in.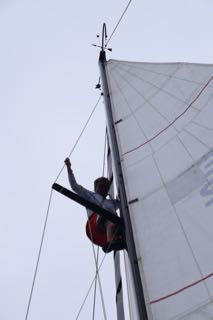 SURRISE!! After 4 hours of sailing we got the visit of 6 - 8 very playful and big dolphins of up to 2 meters. They followed us for nearly an hour jumping up….
… coming up really close to the bow and showing their bellies.
A very happy!
Heidi managing to speed up although they started 3 hours after us due to the fridge needing last minute repairs.
---