Stranded in East London

Take Off
Jörgen Wennberg
Mon 20 Nov 2017 17:14
We arrived early in the morning of the 20th of November and berthed at the Buffalo River Yacht Club, a little and very friendly yacht club with a single pontoon and charming club. East London has a population of approx 276 000 inhabitants.
As soon as we arrived we checked in at the yacht club and were strictly told not to wander around outside the club without taking a taxi. East London is not safe for foreigners and this was repeated several times. In other words no morning walks… We could tell this by how the club was protected from the outside.
We were amazed by the big cargo ships coming in every morning. Different cargo ships docked to this quay every day. The quay was empty every morning and during the day it was filled with new cars: Mercedes! Mercedes has their African factory in East London and we were astonished by how many new Mercedes were produced every day. This we saw every day of our 5-day stay in East London.
Why we had to stay in East London was due to the non-favourable winds going to Cape Town. According to the forecast, it seems like we are "stuck" in East London for at least 4-5 days. So we might as well do the best of our stay. Luckily Buffalo River Yacht Club showed to be a very pleasant place and the Yacht Club being so friendly they offered us their club and their BBQ as long as we purchased in the bar. That was pretty easy considering that a Gin&Tonic cost the equivalent of € 1,50!! Bob on Lexington stood for the BBQ and we got together to help. We had a lovely evening together with Sandvita, Tulla Mhor, Owl, Hanna, Skyelark, and Lexington.
Jörgen, Bob and Sam. Anne, Niklas and Åsa.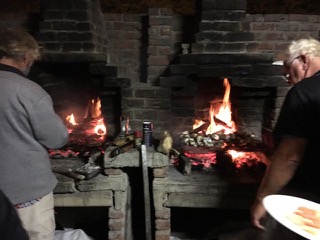 Thomas (Hanna) and Dan (Skyelark). Stuart, Tom, Bill and John (Owl)
Alex and Inez already quite comfortable in the bar, together with Tanya who runs the club.
Sam & Karen (Lexington)
Em & Dan (Skyelark) and Val (Tulla Mhor). Thomas (Hanna), Gary (Sandvita) and Bob (Lexington)
The yacht club's owner, Tanya, had brought her daughter, Iylsa for this evening so Alex and Inez got to play with.
We were lucky to be docked at the pontoon together with Sandvita as the rest of the fleet had to anchor in the bay.
School time and Alex and Inez were nowhere to be found… until Louise heard some giggling from under the dinghy! They were hiding from school...
Johan speaking French kindly helped with Inez's schooling.
Day 3 we took a taxi to the beach and found this lovely restaurant for lunch "Buccaneers".
Having lunch together with Gary, Åsa, Anne, Lars and Niklas on Sandvita.
And then Owl and Tulla Mhor joined.
View over the beach.
A cuddly moment with Daddy…
… and a giggly moment with Gary! And another cuddly moment with Mummy.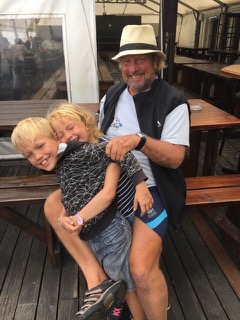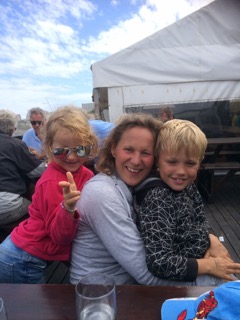 On our very last day, Friday 24th of November, we managed to squeeze a last visit before leaving in the afternoon. Sam & Karen had visited the Inkwenkwezi Game Reserve known for its half tamed - half wild elephants. They told us that we could go near the elephants, feed them and get to know all about elephants. That was a great activity to do with Alex and Inez, so off Louise went with them while Jörgen prepared the boat for our departure together with Victor. We came into the park and drove to this place where the elephants were fed.
As soon as we arrived the elephants being used to visitors were pretty curious and the male came out to say hello to us. They were 3 elephant keepers and this guide below was very passionate about his elephant friends. This is a the male elephant which we can tell by his bites. The male's betar are shorter but thicker while the female's are longer but thinner. So we can tell here that this is the male.
He first invited us to feed the elephant, however only Louise dared to come close to do it...
After a while the male seemed satisfied and wondered off, however he came back quickly again...
This time our guide explained to us everything to know about elephants. He was fascinating to listen to! He explained that the elephant uses his trunk only to pick up what he wants to eat. He aspires the food, however he can only aspire it to half the trompe. Then he puts the trunk in his mouth and blows the food into the mouth. The trompe has two wholes and ends up like for us humans into one canal.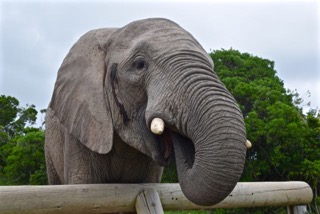 He explained that the "water" flowing from beside their eyes down to their cheek is a hormone liquid. When it is water the elephant is happy or excited and when it is oily the elephant is angry or in a mating mood.
There was something interesting about the eye but we forgot...
The female was a bit more shy but after a while she was curious too and came to say hello to us.
The touching part was to see the bonding between the elephant and their keepers. The elephant ears.
The last part of the elephant tour was to understand their anatomy. This time it was the female who showed as a model, we can tell this by her.
The elephant's front legs are in fact their arms, with an elbow. There was something interesting too about the feet of the elephant, but we forgot this to haha...
Now Alex and Inez could get really close to the elephant and pat it.
Happy kids showing their gratitude to the guide. It was a true joy to experience such a close interaction with one of the world's greatest animals. We are so grateful for the education on these graceful and gentle giants.
We were lucky as by know the rain really started to poor down. End of the tour!
Some road signs here and there in South Africa, quite different from ours in Europe.
We especially liked this one…. gave us a few thoughts as to what society we are living in...
---