Motoring to St Barts & feeling Swedish in St Barts

Take Off
Jörgen Wennberg
Thu 26 Feb 2015 22:17
Early wake up at sunrise in Barbuda.
We had to leave as early as possible due to the long ride over to St Barth, 67 NM (approx 120 km). Considering that we sail in normal wind up to 7-8 knots (14-16 km/h), this is a long ride. If we're lucky with the wind speed and the wind angle (where the wind comes from) we can sail faster than this. However this day was unfortunately not our lucky day. The wind blew straight from behind and approx. only 5 -6 knots (10-12 km/h). This means we cannot sail faster than the wind blows. By motor we make at least 7,5 knots. Considering the distance we had to make the choice was obvious, we had to motor if we wanted to have a chance to come in to St Barts before dark. Here it gets dark (black!) at around 18.30-19.00.
Hoping the wind would pick during the day but it didn't. Some slept for a loonng time…
… others took a relaxing day.
Arriving in St Barts after 9 hours of motoring!
We called into the marina before arriving asking for a berth. The harbour master kindly asked us for the length of our boat. We answered 41 foot. Sorry sir, we are fully booked but you're welcome to anchor outside the marina. Once we came in we understood why it was fully booked. We were far too small…
The anchorage was one of the most rolly ones we have experienced in all the West Indies and they even charged us for just anchoring, with no mooring line.
Just before sunset we managed to get into town for our sundowner. Two of us got quickly acquainted in the bar!
The day after we visited Gustavia, St Barts' capital city. St Barts is French, however it belonged to the Swedes for nearly 100 years in the 17th-18th century. The French gave St Barts to the Swedes in exchange for free port rights at the harbour of Gothenburg. During these 100 years Sweden left a major impact on the island, creating and building Gustavia and the 3 fortresses around. Still nowadays they are called Fort Karl, Fort Oscar and Fort Gustav. The Swedes made also St Barts a free port, which it remains today. In 1878 the Swedes sold St Barts back to France. Over the last 30 years, this free port status has resulted in an astonishing economic recovery.
The only traces remaining from the Swedish time are:
* The street's names
* The Swedish consulat hosting in a big house (St Barts is small) with a huge flag blowing in the wind.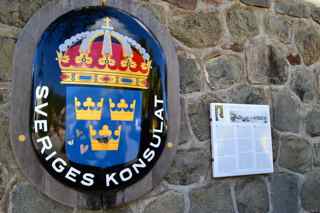 * The bar Le Select owned by Maurius Stackelborough (being related to the last General Councel on St Barts, named von Stackelberg) is a legend on the island. His bar has plenty of souvenirs of the King and Queen of Sweden and he's met plenty of important politicians. He is 93 years and the bar is now run by his grandson (to the left on the right picture below) and grand grandson (being the same age) but Maurius has many kids and between the oldest and the youngest is a whole generation. This bar was quite a visit!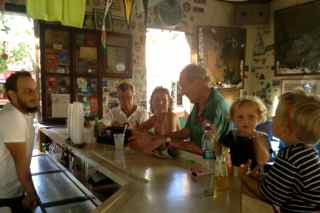 We had lunch at a beautiful place overlooking Shell Beach. The beach deserves its name as it is not sand but crushed shells!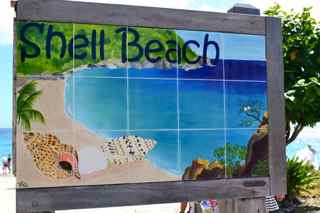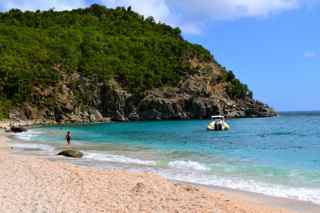 Gustavia is a pretty town with shops with lovely clothes…. however no point to enter them, really far too expensive!! The prices given were expensive for being in Swedish crowns, then you realise they are in US which adds it on another 0!!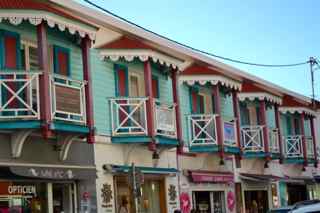 We walked all the way up to Fort Karl which had a nice view overlooking Gustavia.
This was a warm day hiking up. The view over the other side of Gustavia.
On the way down we saw cotton trees. "How strange!" said Alex and Inez.
On the way back to town these 2 were rewarded with ice cream from Mormor and Morfar and they soon forgot the heat.
Coming back to the boat Morfar and Inez had some interesting discussions.
Could not resist this photo…
Sundowner in the boat before heading off to the restaurang Côté Port where Mormor and Morfar invited us for a lovely meal.
Sunset
When we left St Barts we passed this sailing boat being easily over 150 foot! Biggest boat we seen out here.
---