Mini-fleet sailing from Butterfly Bay to Gloucester

Take Off
Jörgen Wennberg
Thu 10 Aug 2017 09:51
What a lovely family : Sandvita, Owl, Tulla Mhor, Aurora and Take Off all sailing together from Butterfly Bay to Gloucester. A very pleasant day sailing!
Arriving in Gloucester and just anchoring we saw this big Manta Ray swimiming towards us.
We all took a long walk along the beach...
… took a sundowner at sunset with all our new friends from Owl, Tulla Mhor, Sandvita and Aurora.
… and had a great dinner together at The Oar, a eco resort.
The day after we took it easy before heading to our next destination Magnetic Island. First schooling and
then Alex and Inez found their place on deck. A well rewarded reading time after schooling.
While Jörgen continued working on the rudder!
At around 13h00 we left together with Sandvita towards Magnetic Island.
Alex navigating.
Happy sundowner. A few big tanks passing us.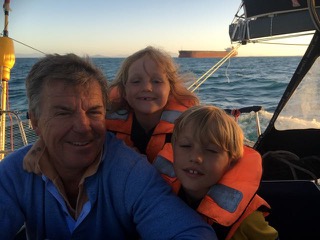 ---