Sailing pass Cape York

Take Off
Jörgen Wennberg
Tue 22 Aug 2017 03:08
In the morning we left Lizard Island to sail up the Northern coast towards Cape York taking us 2 days to sail around the top North part of Australia. We left together with Sandvita and Owl.
The funniest part of this sailing was to realise that although we were sailing straight North, 0 degrees, the sun was in our face. Being an European it does not make sense however totally normal being Down Under.
Lovely sailing!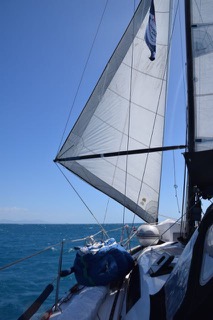 And likewise lovely sunset!
Before getting dark we passed by this little mountain when Inez shouted : " Look a crocodile!". Looking more clearly the mountains did really look like a crocodile wiith its 2 eyes and "nose" sticking up from the water surface.
The day after we passed by Lexington and Cesarina and continued further North.
Our next sunset with Sandvita in the background.
Sunrise during Louise's watch. Always as amazing to be the "first" to welcome the sun for a new day.
… with some company.
We had a pretty could reach all the way to Cape York heading up sometimes to over 10 knots of speed!
Some more company
Alex and Inez always finding something to play with. This time we had the bimi top off for the day. Off course being on the floor ti became quickly a closed nest to play into.
On the 22nd of August at 02h00 in the morning we passed Cape York in really good conditions. We first thought the current would be agains us giving us standing waves. The other boats were all about how to pass Cape York. We were the first boat in our "mini-fleet" with a perfect current going with us and fairly good winds. So there was no issue in rounding Cape York. Yes we were more than happy! Wow it felt really cool to have passed Australia's most Northern tip: Cape York!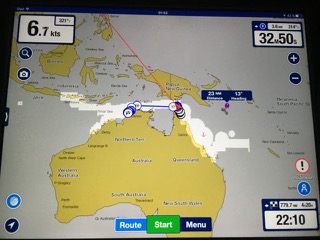 ---