The last preprations before leaving for South Africa

Take Off
Jörgen Wennberg
Sat 4 Nov 2017 17:51
The day before departure we drove to St Paul being known for its huge fruit and vegetable market on Fridays. it was a true pleasure walking around and picking the best fruits and vegetables for our journey over to South Africa.
We came back on time for the Skipper's Briefing. We learned that this passage can be a tricky one considering the challenging winds as well as currents South of Madagascar. We were told to not go North of a certain waypoint in order to avoid the standing waves and difficult current South of Madagascar.
On the morning of the departure, 4th of November we sang for our friend Lars who turns 59 today! Happy Birthday!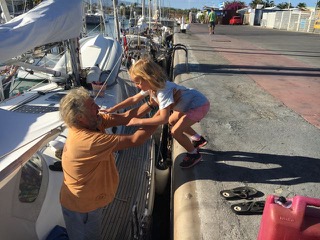 Our birthday cake was a cookie with lots of candy around and some candles.
Off course before start we had another issue…. the gas regulator. Louise was going to make lunch for Alex and Inez before the start and could not turn on the gas, which means no cooking for the passage. This was not possible, we had to do something about it. As usual our "Mc Giver" friend Lars came to help us. Lars found that the membrane for the gas regulator was stuck in reverse…?!? Anyhow before we managed to solve the problem and we were one hour behind at the start.
Fuelling before the start.
When we left Le Port we saw 2 small boys running along the pier waving us good bye: it was Fredrik and Erling from Explorer. So sweet! We don't when or if we will see them again…. They will be sailing the same route, however their little catamaran does not more than 4-5 knots. We cross finger we will see them again.
---