Prize Giving Ceremony

Take Off
Jörgen Wennberg
Fri 15 Sep 2017 07:31
After our long day exploring Lombok for ourselves we finally made it back to Gili Gede, just in time for the prize giving ceremony. Before that Louise took a few minutes to enjoy the beautiful light of the sunset. These pictures were taken from the port side fo the boat with the light of the sunset in the back.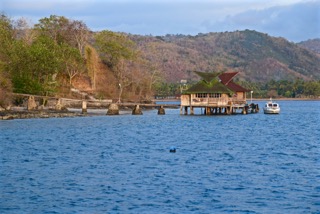 These pictures are taken from the starboard side of the boat, right into the sunset.
We had a nice prize giving dinner at the Secret Island Resort followed later on by he Prize Giving ceremony. Being a long day, Inez managed to fall asleep already before the prize giving itself! Here we have our Swedish friends on Sandvita coming in 3rd.
As a surprise, once again with no mainsail and no engine (just like our first leg from St Lucia to Santa Marta) : WE WON this leg too ;-)!!
A proud Alex swept in the Indonesian sarong we got as a first prize.
Happy crew!
---