Leg 12 Mauritius - La Réunion

Take Off
Jörgen Wennberg
Thu 26 Oct 2017 12:17
On the afternoon of the 26th of October we left the Caudan Waterfront leaving Mauritius behind us.
Port Louis and Mauritius's skyline.
Sandvita Lexington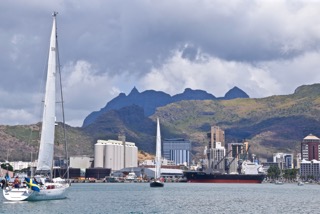 Cesarina Skyelark of London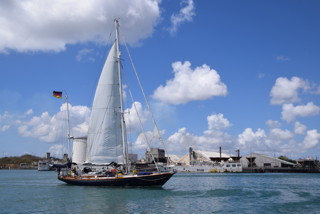 Hanna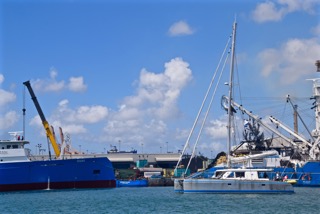 The fleet leaving Caudan Waterfront.
We are crossing the starting line with Cecilia and Victor waving us good bye and taking pictures. The photo to the left is Tulla Mhor and Take Off at the right. We are only sailing by the jib as we do not dare haust the mainsail considering our broken spreader. So we are dearly hoping for some spinnaker sailing!
The fleet crossing the starting line.
The wind is to our favour so we have just haunted the spinnaker and sail straight towards to La Réunion. We realise quite quickly that the whole fleet have opted for a course keeping them closer to Mauritius. However they are stuck in a wind shade and we see how we have managed to take quite a lot of speed towards our target. We cannot understand why they are ALL down there? Eventually we see how Skyelark has managed to leave the group and are following us.
Alex and Inez found another game: lego guys swinging on a zipline in the galley!
Red sky in the night, sailor's delight!
The next morning we approach La Réunion with Tulla Mhor ahead of us whom we will be passing by.
La Réunion!
Sailing the World ARCs shortest leg between Mauritius and La Réuion, we pass the finishing line on the 27th of October at 10h57.
---