The Baleine Waterfalls

Take Off
Jörgen Wennberg
Fri 23 Jan 2015 10:34
Together with the Danish catamaran Chili we left Wallilabou early in the morning to Chateaubelair. Surprisingly no vendors or other boats came to offer their help ?! In all other anchoring places we have always been "aboarded" by vendors or boats offering mooring lines or other services. Chateaubelair was very quiet and probably very surprised to see 2 sailing boats. We were the only ones in the bay! After a while a guy sitting paddling on a surfing board came along. We asked him if he knew someone that could take us to the Baleine Waterfalls at the top of the island. The sea there is too rough to anchor. The only way to get there is by boat and preferably a speed boat. 10 min later the guy came along with some friends and a boat and we were off. However quite anxious to leave both boats alone with no surveillance…. St Vincent being poor and unfortunately known for robbery, few sailing boats stop by the island.
Chateaubelair
Speedboat with all the kids in front!
Beautiful landscape all along the way from Chateaubelair and Baleine Waterfalls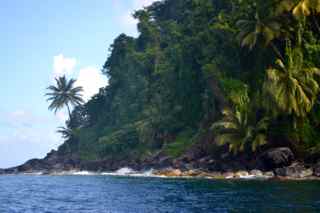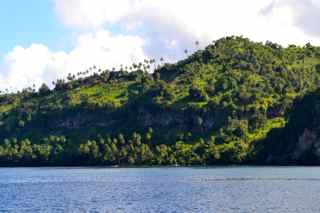 Arriving at the start of the Baleine Waterfalls.
A few hundred meters of hiking and we saw the Baleine Waterfalls!!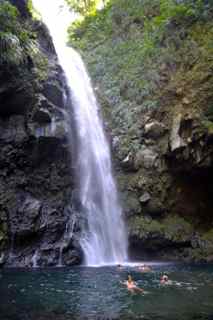 Everyone went for a swim…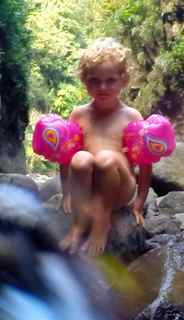 … except for 2 who found the water too cold!
Nope, not for us!
---