Rendez-vous lunch in Chichime

Take Off
Jörgen Wennberg
Sun 24 Jan 2016 19:13
Early morning the day after we lifted anchor and motored westerly passing by several islands inhabited as well as inhabited islands, big as small.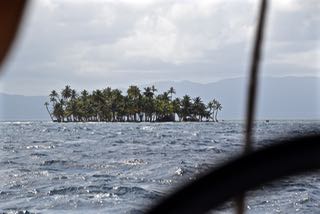 By lunch we arrived in Chichime where World ARC gathered the fleet for a "Rendez-vous" lunch where all the boats shared a potlock lunch. We all brought our dishes and shared everything of the table. We started by getting a whole coconut each as a cocktail. Yummie! The "Chief" of the island of Chichime distributed our coconuts with his grandson.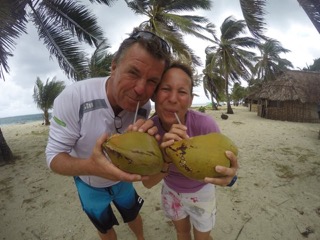 Alex and Inez being creative in the sand by drawing the World ARC's logo!
The Skipper's Briefing for the coming days of independent sailing in San Blas, the checking-in in Porvernir as well as when to leave San Blas for the arrivals in Colon in Panama.
This day was not as sunny as what we were used to: the wind and the rain picked up pretty roughly and some of us had a great fun! Alex running off in the rain with Daz, a South African guy from the boat "Waterman". And then Inez joined too.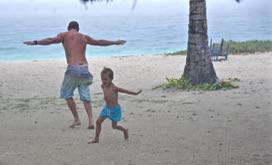 However some did really not want to get wet!
After rain we experienced a typical dancing and music tradition of the Guna indians.
It was really fun to watch the local people filming their own people. Yes, even in these remote islands they also have their iPhones.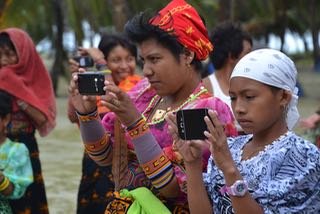 These traditional clothes as well jewelry
around the legs and arms are worn daily by the woman.
---