Enjoying V&A Watefront in so many ways

Take Off
Jörgen Wennberg
Mon 11 Dec 2017 10:51
We were to stay in the V& Waterfront Marina for 2 weeks sorting out boat job, schooling, canvas and continuing ticking off yet another list. We started by adjusting the goose neck as it was not properly fitted. Already in 2016 when we anchored in Suwarrow, we got help from Massimo on Giampi who helped us fix the goose neck. However it broke off in two during the leg from Darwin to Lombok. We managed to get a new one that Pär brought with him coming into Lombok, however we still need to fix it better so it does not break again. Luckily we had Victor with us who could give Jörgen a hand.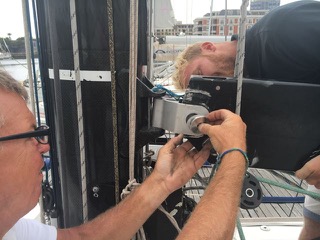 In the afternoon we said good bye to Victor for now. It was a true pleasure to have him on board around the Cape.
We took a walk down to the centre of the marina where Alex and Inez found a playground for children. Perfect for us! All the 4 are happy: Alex & Inez running their legs off and Louise & Jörgen taking a drink. However the non-use of shoes seemed to be preferred..
At the V&A Waterfront, the marina is full of shows, music and people trying to make a living. This corner is always full of musicians and dancers. Every day a new band there at the same spot playing their music or performing their dancing. Off course we bought a CD from this group too. By purchasing their CD, Alex got to play with the band.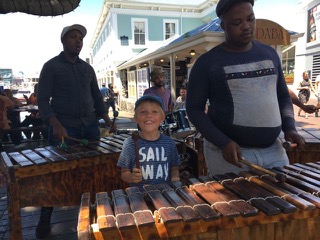 Another day we saw these dancers with a "foot necklace" made of lids of tin cans around their wrists creating rytmic noise: music as well as the choir in the background.
Frame your visit in Cape Town! Alex holding onto Table Mountain in the picture to the right.
Visiting the Nobel Square. Louise with Alex and Inez standing by the four South African Nobel Prize laureates: Nkosi Albert Luthuli, Archbishop Emeritus Desmond Tutu, former State President F.W. de Klerk and former President Nelson Mandela. The part they played in the road to democracy was long and the struggle filled with hardship and tragedy, yet these remarkable men held fast to their belief that there was a peaceful way forward. Amazing how some people devote their total life helping others find peace and freedom where it seems impossible to create a difference. These four men have had a tremendous impact on the history of South Africa.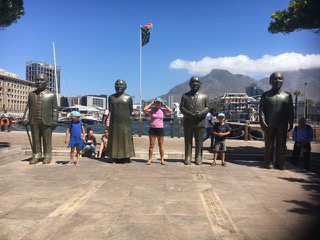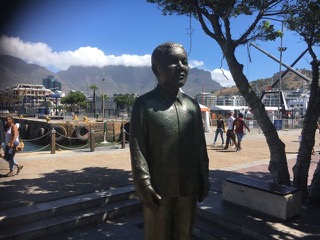 After some serious contemplation over South African's history we headed for some more attraction in the V&A Waterfront: the Cape Wheel. What an amazing view over the Waterfront and Table Mountain.
We could also see the extreme hard wind blowing out at sea. Happy be on land!
Down on the main square we experienced more entertainment, music and dancing.
Every morning we did schooling sitting in different spots. The restaurant Mondiall was mostly the preferred choice with good wifi (!) and nicely pressed orange juice.
While Jörgen and Louise are constantly fixing the list, Alex and Inez find their roll games...
... were lucky as they found a French catamaran "Moby" berthed next to our pontoon, with kids becoming their new friends. Arthur, the same age as Alex, and Anna a year younger than Inez. They spent most of their free time with the Moby kids.
Apart from schooling every morning, Linus on Sandvita taught them some handicraft : making your own sailing wristbands! Freddy got one as a-thank-you-present for everything he has done for us during the Volvo Race Week. His colleagues seeing the nice wristband gave Freddy an order for Alex and Inez to do 30 wristbands!
Daddy went off with Alex and Inez to buy the necessary and Take Off turned into a fabric of wristbands. They sell them for €10 and 20% goes to charity.
Every morning we took our morning walk along the coast, such a beautiful morning walk path! I think this path must be one the most beautiful morning walks we have taken during our whole circumnavigation.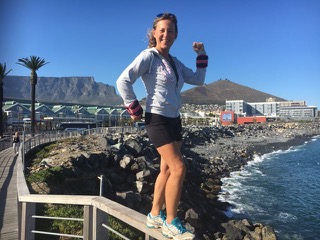 Ending up here too framing our visit in Cape Town.
After the Volvo Ocean Race week we had the privilege to welcome brother Freddy onboard Take Off for a few days before we all move into to our rented house over Christmas.
Enjoying once again the playful seals in the marina.
Alex and Inez happy to have Tonton Freddy and Inez showing him her "Adventure Book".
Freddy and Alex doing the "mini me" ?
Cape Town by day and by night.
Inez by breakast, by day and by night.
---