The magical Bay of Island

Take Off
Jörgen Wennberg
Thu 16 Jun 2016 15:29
Early in the morning we left Avea and our friends Jonathan and his wife on the cataraman "Chez Nous", a wonderful couple devoting their sailing adventure to helping people on the remote islands after the hurricane Winston. We are happy we took these days to help Sea Mercy and contribute with what we had on board, our time and our children.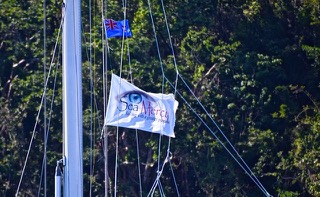 Bye Bye Avea!
On the way we met once again the tall ship carrying on board disable people. We had also met them on Papete on Tahiti.
After a quite tricky passage from Avea to Bay Island due to non accurate charts (seriously they were not reliable, only eye-ball counted!) we entered the Bay of Island : a magical archipelago in the North of the Lau Group. The islands were like piles of sugar placed every where and there in the sea. A breath taking beautiful sight!
We quickly found our friends Wishanger, Blue Summit and Paradise Found as well as Ain't Fancy and Chili Bee.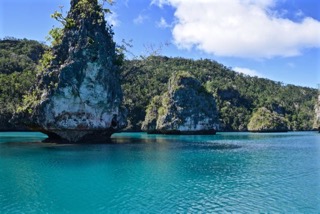 We found this beautiful place, so peaceful and quite.
Alex and Inez found themselves quite at ease.
Amazing clear sea bottom.
Louise took a swim along the rocks snorkelling
The day after we took a proper dinghy tour along the small islands.
Alex being our navigator on the dinghy
Mike from Paradise Found kayaking.
We continued towards the open sea.
And there we found our friends from Ain't Fancy snorkelling, Bettina and Dirk. As well as Cameron who took Inez snorkelling!
And then heading back to Take Off
In the evening we took off together with Wishanger and Paradise Found from Bay of Islands for a night sailing to Taveuni.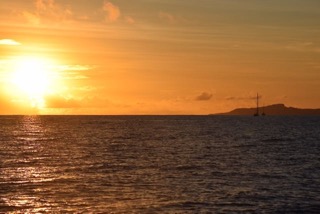 ---