Snorkling day at 3 spots on San Cristobal

Take Off
Jörgen Wennberg
Sat 20 Feb 2016 20:47
This day is organised by the World ARC as part of our participant fee. We got to enjoy San Cristobal's 3 best snorkelling spots and bingo! We first got a drive to Loberia Beach, where you are aloud to visit only with a guide from Galapagos. We spend this day with our Swiss/French friends from "Heidi" and Nilla.
We had borrowed special snorkelling gear for kids and both Alex and Inez were really eager to see their first animals under the water. Loberia Beach delivered and we saw several sea turtles and ...
… plenty of fish!
Jörgen taking a ride by himself with the sea turtle.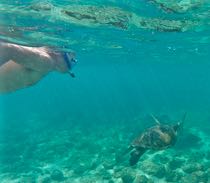 Next stop we drove to by boat, to Playa Grande. As beautiful as the former one.
This time Alex wanted to snorkel by himself...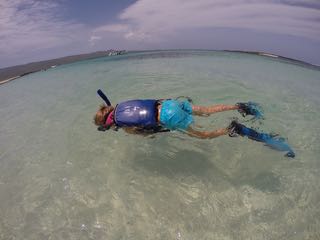 … which they both enjoyed until the "shark" came along chasing Alex away!
Now enough of snorkelling. Inez contemplating the sea lion further away…
.. and enjoying her new birthday present from Nilla and Janne : a water gun!
While Cécile found her space in the shadow.
Jörgen and I took a walk along the beach and by being really precaucious we saw our first marine iguana! You really have to look as they melt into the lava stones.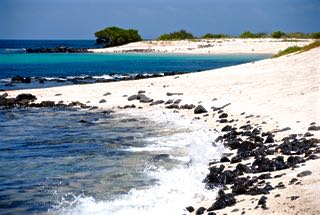 This one looks like he is smiling right into the camera !
Managed to catch one coming up from the sea.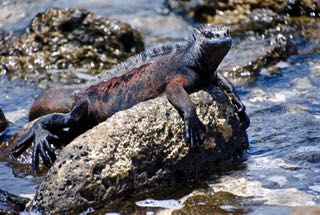 And the crabs - they are everywhere!
Time out of this beach, walking back to our boat with Cécile, Daniel and Raphaêl.
Leaving Playa Grande catching a few last pictures with Kicker's Rock in the background…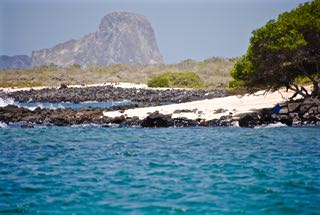 … as well as these sea lions and blue footed boobies. Yes this is indeed these bird's name ;-). They have bright blue feet!
Our boat ride to our last stop - now snorkelling at Kicker's Rock.
We first drove around the Rock itself which was amazing!
Having a look at the possible wild life on this rock.
Then enjoying once again what's underneath the water. We swam together through the channel, where it is the safest as the current takes you right through the channel. Jörgen got the responsibility to close the group with a buoy. Nilla and Jörgen having fun!
We had this amazing sight with a sea turtle being flushed back and forth by the waves just underneath the sea level. We were flushed together with this sea turtle, however the waves were as strong towards the rock as from the rock so we never hit the rock. Just went along following the waves. These sea lions occupied the boat's dinghy.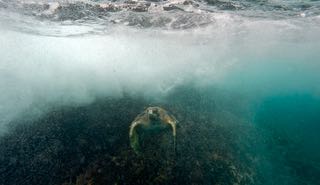 Once back in Puerto Baquerizo, we took a long walk along the Sea Lions's Beach...
… found this pelican...
...together with a sea lion, an iguana and some kids! Alex was not sure at first of being so close. Once he agreed, the iguana got bored and left!
Yeah this was fun!
On our way back to the boat we found a play ground….
… some ice cream and an iguana walking back home?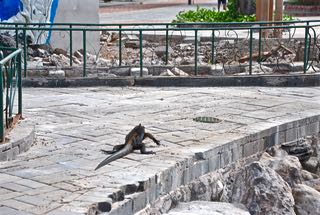 ---