Sailing up North: Carriacou and Myreau

Take Off
Jörgen Wennberg
Mon 12 Jan 2015 01:28
After coming as far South as we could to Grenada we turned Take Off to sail up North again, which also means meeting the Trade Winds. These coming days showed to be very very windy!
We started our 2-day visit in Tyrrel Bay in Carriacou by visiting the Mangrove Swamp. We left very early in the morning as wildlife is more vivid. So we took breakfast with us. Very cosy and somewhat exciting for Alex and Inez. After a while we got caught by some heavy rain so we tried to find shelter in the swamp. However our breakfast was very very wet.
We were told that we could find Iguanas in the swamp and other exciting animals. This is our "catch" of the day: jelly fish.
Leaving the Mangrove Swamp we saw pelicans. From far away they look like swans. More closer you see the long beck.
Coming back we went for Paradise Beach. A lovely beautiful beach just as you see it on the postcards! Turquoise water, white beach and no people!
Bluebell plays with Inez and Hugo shows Alex how to listen to the sea in the shell.
Sophy and Albane enjoying the sea and the kids doing a sand castle. Very shortly it will be crashed by Hugo…
Once again we got caught by the rain…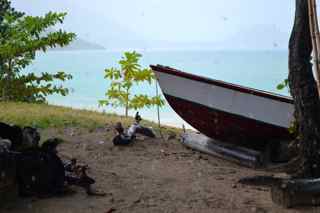 Shortly after we took a taxi to go into the Capital of Carriacou, Hillsborough. A pretty small town built along a road along the beach. So everywhere you look from the road you see the sea. The picture to the left is Union Island in the background.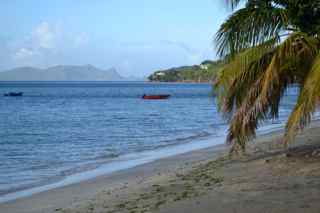 Wifi
When we left Carriacou it was first to pick up Caspar from Aretha in Hillsborough. We did through them a Farewell Party in Grenada as they were to leave to Panama for the World ARC. However the day after the clutch of their engine broke and they had to order new parts of the engine to arrive to Grenada, which meant they could not leave until the week after. Nichola and the kids went on Khujada2 and Matilda and we picked up Caspar. We had a lovely sailing over to Union Island.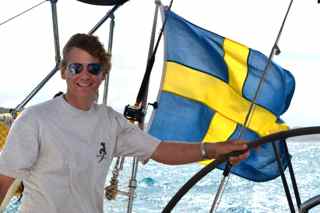 Passing by Sandy Island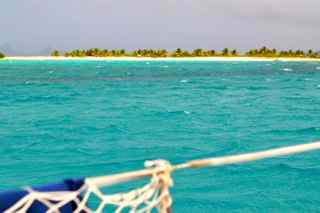 Dramatic weather change coming into Union Island.
We stopped in Clifton to clear in. The place is known for its kite surfing.
After clearing in in Union Island we moved forward to Myreau. This boat is the school boat from Union Island. Kids from Myreau coming home from school on Union Island.
View from Myreau over the rain on Union Island.
---