Provisioning, stowing and the very last fixing!

Take Off
Jörgen Wennberg
Sun 23 Nov 2014 23:43
These last days have been a total Marathon! If you find that there is a lot to do in a house… a house is nothing to compare to a boat. First of all with a house you can always call someone to fix the problem. On a boat you're the plumber, the electrician, the handyman x 100 or more likely the handyJörgen. He's done a tremendous job on most part of the boat such as changing the toilet grindge at least 3 x. And then we have handyNils who fixed the rudder last minute today (thank you so much ;-)! and not the least handiOlof, our own IT-support. Since the crew arrived late Wednesday we have been fixing, repairing, testing, out sailing to test the maneuver MOB Man Over Board, checking out the sails, and more and more and more….




… and off course the planning of the meals, the list of what and how much to buy (thank you again Nils for the tremendous excel sheets you've done!). The provisioning and not the least where to store everything! You have to be well organised to know where you've put all the food, how easy is it to access to it when the boat is rolling, and so one… Let's get the first proof of our organisation out there tomorrow ;-)




However and luckily the today's start was postponed to tomorrow due to hard wind. We all needed this day to relax, catch up and just breathe… ;-). Now we are really on the go for tomorrow!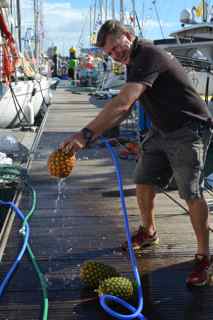 All 180 boats are in full preparation!
Testing the machinery on board, such as our water maker
A big hug and good bye to the kids' own private day care Jean-Charles.
The last fixing on the rudder
Although the start was postponed today we had nice live music from the local band
A worthy competitor…
We'll be writing our blog during our cross over however with no pictures… We'll keep them to St Lucia!
Bye bye!!
---