Daily routines on board

Take Off
Jörgen Wennberg
Thu 17 Mar 2016 23:14
10.28 S
127.25 W
What do we do all day long on a sailing boat? How do you managed to kil time? When we know it sounds absurd to say that time passed quickly but it really did. To summarise all the activities on board, try to imagine to do everything you need to do in your daily life: sleep, cook, go to the toilet, shower while you are working out or doing any other sports. This is sporty!
This picture below is to show how the oven is leaning while making breakfast. The next picture is one of several occasions where Louise made pancakes for the whole crew.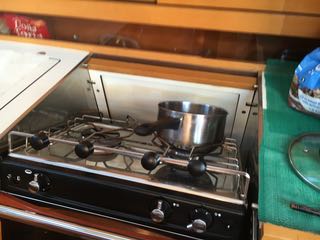 Our stock of fruits on board
Washing time and natural drying: no need of tumble dryer. The air is hot and windy. Jörgen among his underwear.
This is a special procedure on Take Off's daily life: cutting garbage. With no space at all for our garbage we have to cut everything we cannot throw at sea: milk packages and all plastic. Luckily the kds did find this fun so they took over every time we started to cut.
At least 2 hours of schooling every day. Alex has 7 subjects to send to his teacher at the CNED before the 15th of June. We are working our way through one subject at a time.
Every morning at around 8 - 9h00 and every evening at around 17 - 18h00 (according to different time zones) Louise to take of the so called "Roll Calls" with the SSB Radio with the rest of the fleet. The roll calls in the morning were to report the current positions and the ones in the evening to report any nice, such a catching a huge fish or being hundreds of dolphins, or worse happenings, such as breaking the bom, the steering cable, the toilet…. after a while we could not bother to report all these incidents as we felt that soon Take Off would be named Troublesome. As long as everyone was safe and happy we reported "Everything on board is good and we are enjoying our day sailing as well as preparing for the night. Over and out."
The shifts in different ways. Jörgen's on shift early in the morning with the kids' company and Edvard's sleeping shift in the cockpit
When Louise woke up the kids got their reading moment together with Mummy.
Every evening we had our sundowner. David became quickly the master of sundowner on Take Off: making different sundowners every day so there was always a surprise!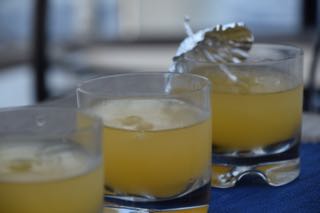 The boys' table….
… and the girls' table.
Alone in the big ocean
Happy crew!
---