Scootours by Signal Hill

Take Off
Jörgen Wennberg
Thu 14 Dec 2017 12:00
The day before the whole family arrives in Cape Town (Louise's parents and Jörgen's sons), we took off for a family adventure and tested Scootours. Scooters on Tour! A super duper fun activities as a family.
Inez being more enthusiastic than Alex.
We jumped on a Monster Mountain
Scooter and Freewheel with the city below us. It was a true Table Mountain experience
and its breathtaking views in a fun and active way.
During the 2 hour Scootours we got the opportunity to freewheel down off road tracks, and it went really fast! The first track runs down the side of Signal Hill all the way into Bo Kaap.
After getting picked up by our vehicle in Bo Kaap, the experience continued as we were transported to Table Mountain for your final run down the lower slopes off this world-famous land mark. The views were breathtaking!
Happy Kids, the ride was great fun!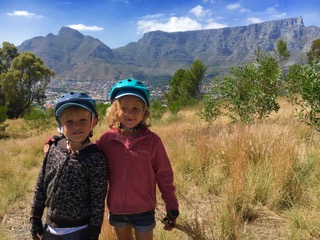 Inez enjoying the view over Cape Town
The nice villas at the foot of Signal Hill.
---