Back to Cairns after 20 years!

Take Off
Jörgen Wennberg
Thu 17 Aug 2017 08:13
After one night of sailing from Magnetic Island we reached Cairns in the morning. For Louise these days in Cairns will be somewhat nostalgic as it was exactly 20 years she was here backpacking together with her brother Freddy. However a few things has changed with Cairns during these 20 years.
As usual when arriving at a marina we find the luxury in having 220V for the coffee machine and the vacuum cleaner. The luxury too is to shower long under hot water. And then there is always to get clean clothes: laundry!...
…as for others the luxury is as simple as to have ice-cream.
Alex and Inez together with their "låtsas-Pappa" Lars from Sandvita.
The same evening we gathered together our mini-fleet: Aurora, Cesarina, Tulla Mhor, Sandvita and Take Off for a BBQ by the marina.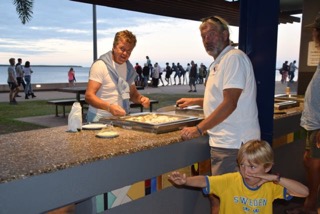 Now comes the real nostalgic feeling: coming back after 20 years to CDC Cairns Dive Center where Louise and Freddy took their Open Water Dive Certificate in November 1997. The same shop however somewhat modernised inside.
Louise left early in the morning for a 1h30 boat ride to Moore Reef, the exact same reef as 20 years ago.
The dives were good, unfortunately there is a big change since 20 years ago. The coral had lost a lot of its colours and the water was not as clear as it used to be.
However we were lucky to see a shark!
Louise's dive buddy was Patrice, a French guy who has been living in Lisbon, and working together with one of Louise's friends from the French school. Haha, the world is small!
On the way back to mainland we had the chance to see whales.
Cairns has become a beautiful city with lots of fun activities and many nice attractions in the city. The city is mostly known to be the gateway to the Great Barrier Reef. Our last morning we woke up early in order ...
...to take our "morning dip" in the Blue Lagoon where Alex and Inez have been swimming the last few days.
We continued our way through the city of Cairns enjoying the many sculptures, arts and decorations.
Our main aim this morning before leaving was this place we found a few days ago : a Swedish café! With all the lovely Swedish food, sweets, pastry, etc…. So we decided together with Sandvita to have a proper Swedish breakfast there!
Walking our way back to the marina through the city of Cairns.
Sandvita our neighbours in the marina.
Ready to go for our next destination: Lizard Island!
---