Halloween

Take Off
Jörgen Wennberg
Tue 31 Oct 2017 12:23
31st of October: Halloween in La Réunion. We are so happy for Alex and Inez to have their Norwegian friends on Explorer Susanne, Fredrik och Erling to do the "trick & treat" with. They all went all in all for it and went from boat to boat. First one out is Cesarina...
… with Dietmar being very generous.
… and the little princess got some extra.
Next stop is Take Off.
Running off to the next boat...
… being Owl with Bill giving away some candy.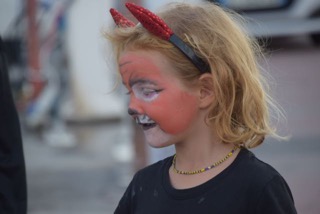 Altair being an American boat had organised well their treat give aways. Barbara was very keen on getting the right candy for the kids.
Sandvita next...
… and Skyelark.
Arabela was, probably fortunately, not there as they would most likely have invited the kids for some vodka...
The kids have now their bags FULL of candy and are pretty happy with their harvest!
All the kids are now running to catch Explorer's dinghy and enjoy the candy on Explorer.
In the evening it was our turn and same thing here: everyone really got into it big time! This is Sandvita who got the brilliant idea of making fun of what happened in Cocos Keeling. Before leaving Cocos Keeling we were not aloud to leave our garbage on the island (strict Australian rules due to biodiversity). However we managed to ask the local catering guy who provided us the BBQ for the Prize Giving dinner and in exchange of money he would take care of the garbage. However he did not come back in time to collect the garbage and the customs when clearing us out saw the garbage pile. This became a big issue and a big fine for World ARC. We wrote a letter all the skippers together to the office and explained the whole situation and were off course very sorry for the inconvenience we had caused. We still do not know how they sorted this out. So Sandvita disguised themselves in garbage! Haha...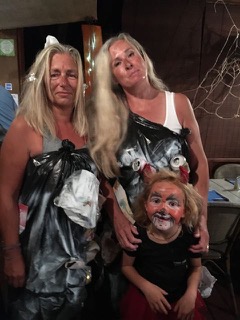 Louise & Jörgen. Ellinor and Bill as Jack Sparrow.
Arabela and our Dutch delivering Hanna as skeletons.
There was an amazing band...
… and the musicians were excellent! Especially the guy with the golden mask...
For some the evening became a bit late...
---