We are off!!

Take Off
Jörgen Wennberg
Wed 21 Jun 2017 08:55
On Wednesday 21st of June we finally took off from Cascais. A chicken race to finish off everything before leaving: school earlier than the official last day, unsuscribe them from school and suscribe them to CNED (the French distance school system), empty the house from all personal belongings (wow amazing how you managed to gather so many things in only 1 1/2 year since we bought the house!), prepare the house for lending out to friends who will take care of the house for a year, checking that all the invoices are in a auto-payment mode, etc…… puh…. Now we are off!! The feeling of knowing that we will not be back until end of August…2018… is actually quite unbelievable. But so true!!!!
Off some champagne the first thing we do once having checked in at the airport in Lisbon leaving off to Singapore via Dubai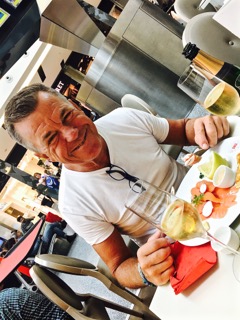 Some happy travellers with us!
---