BBQ on Suwarrow

Take Off
Jörgen Wennberg
Sat 21 May 2016 04:33
Our time on Suwarrow was to be maximum 72 hours. After that we had to continue our sailing forward to the next stop. So we made the maximum out of the island! The day after having more ARC boats coming in we organised a BBQ dinner late afternoon on the other side of the island being more windy. It was pretty hot so we were happy for the breeze we could get!
We all shared our BBQ meal and spend a lovely time together at the coral beach.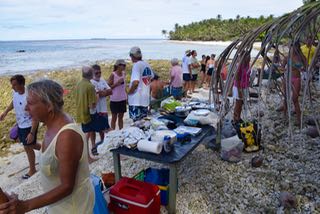 Eating, chatting, socialising and spending lovely time together. Inez serving Mummy's baked brownies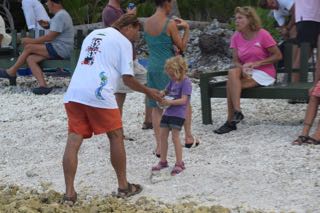 Remote and deserted island: Beautiful!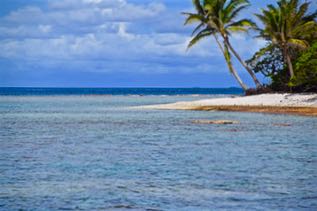 These are not looking out at the horizon, they are very keen on at looking at their feet... experiencing the amazing entertainment the sharks coming in to only 25 cm of deep water 1 meter from them! We fed them with all our left overs. The sharks were happy and so were we!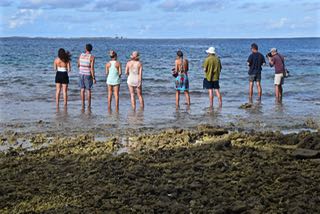 Alex and Inez chatting with Tom and holding on very tight to their marshmallow bag they got from the catamaran Zoom.
Yummy barbecued marshmallow!
Lovely new friends: Pia from the Swedish yacht "Spirit V" and Jaana from the Finnish yacht "Mearran Nieida"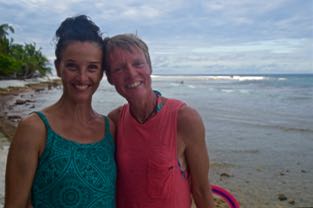 Once the darkness came over us on this side of the island we moved back to the side where the yachts were anchored and saw this….. one of our mest spectacular sunsets!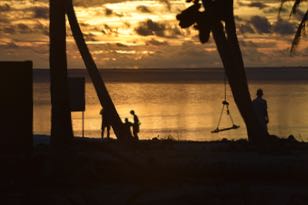 Alex and Inez still being deadly scared of the coconut crabs managed to flirt a ride with Matthew and Tom.
---