Our routines of the day and some advise!

Take Off
Jörgen Wennberg
Fri 17 Apr 2015 13:58
Many of our family, friends and blog followers have asked us… How do you spend your day? What do you really do? It is true sometimes we wonder too how our day goes by… Here is some sort of summary, excluding all our excursions.
A normal day with our routines
The kids come in to us by 6h30 - 7h00. Really cosy and we spend 30 mn to an hour in bed cuddling, sleeping or reading.
Some mornings we take the opportunity to go out exercising: Jörgen takes the dinghy to go running on shore and Louise takes 10 - 20 swim laps around the boat.
Before breakfast we have our compulsory morning dip! No matter weather or anchorage we dip… except when we are berthed at a marina.
The shower of the day, at least to rinse off the salt.
Around 9h00 we have breakfast, sometimes with Alex and Jörgen playing chess.
Every time we leave a place we have a procedure for preparing the boat for departure.
At first the dinghy: we take away the oars …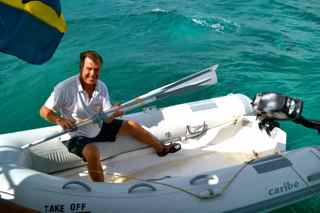 …and then the motor and put it in front of the helm. A bit heavy weighing nearly 25 kg, Jörgen has quite a struggle every time! Perfect way to keep fit ;-)
Once the dinghy is stripped off we lift it up on deck. Quite often the wind blows pretty badly making this a challenge, as the dinghy becomes a heavy wind range!
Once we have managed to place it in front of the mast we lower it down on deck making sure that the hatches are closed so we don't get all sand and sea water in our cabin… ;-)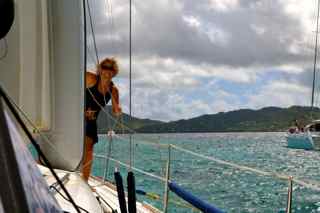 After the dinghy we take off the bimi top. As we have a low bom we cannot keep the bimi top on while we are sailing.
Now that the boat is ready for sailing Louise being called the "iron lady" is in charge of taking up the anchor.
Once we have left our anchorage and come out off shore the first thing we do is to empty the toilet. Not always a pleasant task… We first open the vault from the waste out to the sea.
Then we turn on the waste water pump which is a mill making sure our toilet rests turns into small particles into the sea.
This is what it looks like behind the boat. Really neat if we might say so!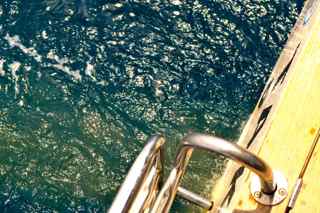 The second task is to empty our fruit & vegetable waste. In order to save the garbage space we fill a plastic bag with the rests of fruits, vegetables, egg shells mm.
The third task is to fill up our water tank. We have a water maker on board where we can take in sea water and turn it into fresh water. It makes 40 L / hour. It is our best installation on board!
The kids have found their routine on board letting their imagination and fantasy make their day.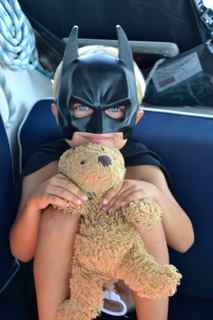 Alex and Inez have opened their minds realising that when the boat is anchored off shore it is their only playground. So playing hide and seek or football is no issue. It works! Only twice a week they are aloud to play on the iPad.
However what Alex prefers to do on the iPad is to take out a route for where we are heading off to. This could sometimes be a bit tiring…
The best thing about sailing is that nearly every time we are sure the kids fall asleep! Inez after waking up.
Some days the kids prefer to spend the sailing time in their cabin.
Once we have arrived to our next destination, we have the same procedure with the dinghy: lift it from deck, putting it into the water and lift on the motor. The first thing Jörgen does then is to get on shore and clear us in if we have arrived to another country. Sometimes the kids are lucky and get to come along with Jörgen, however only one at a time.
Customs: clearing in. Same information for all countries that has to be filled in manually on different sheets. Only the French speaking islands have all this procedure computerised (!!!! considering the well known French bureaucracy)
Sometimes the customs are placed far away from the main harbour and the office itself is hard to find.
Once, in Dominica, we had to take both kids with us. The custom people were not very happing as the kids had not been on land for a while and their legs were running off them, making them a hurricane in the customs office. Louise had to put them on a chair standing in between them while Jörgen was waiting for the custom people to finish off our clearing in.
When we are anchored off shore the dinghy becomes our essential contact with land. The dinghy really is our car and permits us to get wherever we want and need. Here Louise has been out shopping at the nearest village.
Every island and everywhere we have anchored or berthed at a marina laundry facilities are easy to find. However sometimes we need to do the essential laundry ourselves. This has become one of Jörgen's tasks.
After lunch or dinner we make the dishes…
…sometimes helped by the kids.
Schooling is also on our schedule the days we are not too busy with excursions or socialising with other boats. The kids have been really motivated in following their books we bought in France. They have learned maths, reading and writing.
From time to time we allow Alex and Inez movie time!
Louise at work or on the blogg. There is always a nice and different spot every time to sit at work ;-). All sailing details are logged in a logg book.
Our neighbours
As for a house or a car, our boat also needs maintenance.
The most repetitive task is to clean the water line from growing sea grass, sea tulips and other things growing on the boat due to the salt water and warm temperature.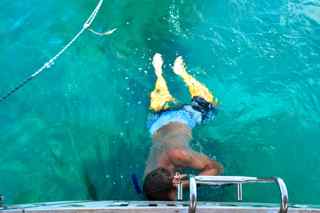 The bilges have to be cleaned and emptied on water. The hatch in the saloon leaked in water and had to be tightened up. During one of our sailings, a huge wave swepted over the boat and many liters of sea water showered our salon.
Once we have anchored at an island, especially in the Southern part of the West Indies we had vendors coming up to our boat selling fruits, vegetables, fish of the day…
Before sunset, 17h30 - 18h00 we have our sundowner either ashore in a bar or on the boat.
The sundowner is the time for the family to gather and play Yatzee. Both Alex and Inez manages to get the most yatzees!
Once it got dark Alex being responsible of the light on top of the mast made sure that it was lit for the night. Compulsory when you are anchored off shore.
Now for the recommendations, advise and good tips we got before taking off sailing. We would like to pass them on for those this could concern.
Energy on board: we have 4 sources of energy.
The first 3 are used when we are anchored offshore.
1. The engine: need diesel
2. The E-foy: like our own nuclear centre based on Methanol
3. Solar panels
At IKEA we found these solar lamps. We charge them during the day and use them during the night. So easy and convenient!
4. Electricity on board: only when we are berthed in a marina.
Water supply offshore is with the water maker and onshore either in a marina or at a "water island" as below.
When we are berthed in a marina we don't use the gas cooker in order to save our gas. We bought an induction cooker based on electricity. So quick, convenient and cheaper as we pay the electricity anyway and don't need to change the gas tubes.
In Las Palmas before the Atlantic crossing our French/English neighbours had bought a Nespresso machine. We got so inspired so just 3 days before we started our crossing we bought one too. This has been one of the good reasons why we berth at a marina: to have a proper strong coffee ;-)! We only have 12V on board when not in a marina so we can't use machines on 230V, only in marinas.
Marinas is luxury in some ways.
Pros:
- the kids can run off easily
- need no dinghy
- coffee!!!
- showers
- use 230V
Cons:
- no morning dip
- sometimes noisy neighbours
We learned to do our own yoghurt! So gooood ;-)
This is our last blog for the season. We will back after Christmas as we will come back to the West Indies and sail off from St Lucia with the World ARC for the circum navigation starting 9th of January 2016 . We will keep you updated !!
THANKYOU FOR FOLLOWING US ;-)
---