Swimming with dolphins and diving with Lemon Sharks in Moorea

Take Off
Jörgen Wennberg
Thu 5 May 2016 04:30
After a quite rough motor ride for 5 hours with heavy swells we reached Moorea being only 4o km away from Papeete. The population here is much smaller than in Tahiti (a little more than 16 000 people live in Mo'orea) and the island is comparatively less developed than its sister-island.
Arriving into Mo'orea is absolutely breathtaking! We headed towards the Northern part of the island where there are 2 well sheltered bays. We chose the Opunohu Bay offering the most spectacular scenery.
We anchored and continued working on school. Quite a nice classroom!

Before sunset we took our dinghy to shore.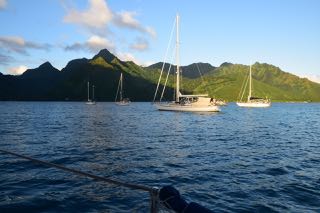 Inez has now discovered the nice taste of coconut. For every coconut on ground there is a discussion if we should bring this one on board…
We anchored the dinghy outside the Hotel Hilton...
… and discovered all its nice facilities.
A well worth sundowner in a beautiful scenery.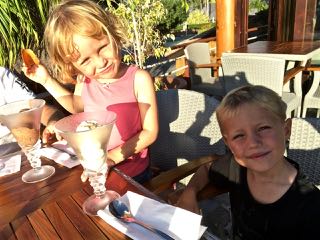 Out on the beach we saw this coming surprise for someone out there…. Quite romantic!
The day after early birdy in the morning we took our dinghy to the next resort, Hotel Intercontinental, hosting the well known Dolphin Center as well as diving. The dinghy ride was beautiful! What a landscape!
We started with the diving. Top Dive in Mo'orea were very service minded as our issue is not only "do you have availability for us to dive?" but also "do you have child care?" The girl we booked the dives with, Laure, answered that Friday was her day off so she could take care of them at the hotel. Wow what a service! So off we went diving and the kids with Laure. Wonder who were the most happy ones?
We got 2 dives with Top Dive who chose to bring us to the "Lemon Shark Valley. As we had dived with so many other sharks in Tuamotus we did not bother to bring our camera. Oh what a mistake! These 2 dives were one of the most spectacular ones. Lemon sharks are a lot bigger than the the black tip sharks. The Lemon Shark do not have a bright sight and if we all divers stay as a group the sharks see us as a huge animal and do not dare to come too close. However at the end of our first dive we had one lemon shark being a bit too curious and came back and forth to our group of 5 divers. The dive master just told us to stick together. Yes we did get a bit scared! During our second dive we saw a 2 m moray eel coming out of its whole swimming to the next one. Amazing sight!
Coming back to the hotel Alex and Inez had had a wonderful time with Laure. Now lunch before the next activity being...
… swimming with dolphins! The Dolphin Center hosts 3 dolphins, 2 males and 1 female.
We got the opportunity to swim with the dolphins, getting close and touching them, learn about how easy it is to tame and teach them and be entertained by their amusements. It was a fun afternoon with Alex and Inez being somewhat fascinated as well as scared to be so close to them.
The day after we managed to find another well know spot on Mo'orea, the langoonarium. In over 1 m of water we swam with a group of 10 - 15 black tip sharks as well as sting rays. All sharing the same water! A magnificent view under water. The sting rays are friendly and also very curious. If you have food they come right up close to you from behind smoothing your legs...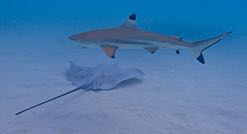 By late afternoon we lifted anchor to night sail over the more Western part of the Society Islands: Huahine, Bora Bora, Tahaa and Radiate.
---