Unpredicted and fun visit up in the mountains

Take Off
Jörgen Wennberg
Mon 30 Oct 2017 12:11
This day we have been both working on our continuous list on the boat as well as progressing with schoolwork. As Alex and Inez had been working so well they were invited over for lunch at the Norwegian boat and spent the afternoon with them. As we had ticked off as much as we could on our list and that we were "kids free" we took advantage of having a car and a map and see where we could end up. We asked Victor to join us which was a great pleasure.
Somewhere Louise had red that going up into the mountains and visit a place called Dos d'Âne was a nice spot to visit and not too far a drive from the marina. So off we went. We climbed and climbed and climbed the mountain. We found Dos d'Â and the view was really breathtaking.
However we wanted to find a place for lunch so continued further on hoping to find a nice restaurant with a view. We saw signs "Gîte d'hôtes", which means more or less bed & breakfast. So we continued and we ended up here...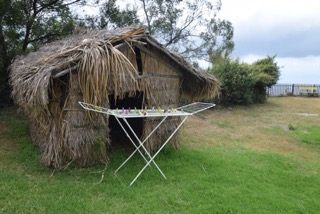 A gentleman named "Jacky" welcomed us and said that we had got the right place however they were not open. He was so friendly and welcomed us in to his place. We talked and talked and talked and he was very communicative telling us all about the village's history and his story. so he said "well if you have driven all this way up, might as well enjoy the view and have a seat".
He was a very funny guy, laughing all the time. We could just not stop listening to him! However his English was very poor, but Jörgen did understand most of it. Jörgen was more taken by his energy and body of language.
This his view from his garden.
After a while he said why don't stay for some rum punch? We could not say no, although we still not have had lunch at it was nearly 14h00.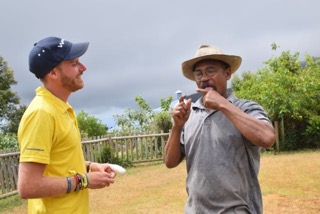 The rum was off course already made, just like if you have a jar of orange juice or milk in the fridge all ready to be served, they have the rum punch.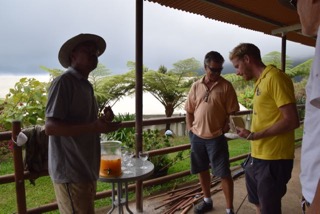 Jacky's mother came over too, Simone, and she was truly a charming lady!
We talked and laughed and talked and laughed and had more rum punch...
Simone was not only charming but a very elegant lady.
Jacky continued talking about his stories entertaining us.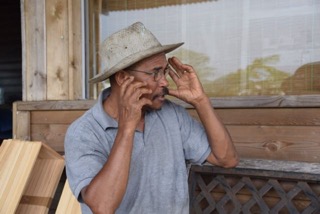 Simone told us she came from the Cirque de Mafate. North of the volcano Piton de la Fournaise the older volcano had collapsed giving way to 3 circuses: Cirque de Mafate, Cirque de Salazie and Cirque de Cilaos. All 3 circuses are joined by the Piton des Neige at 3 07 m. There is road access to Cirque de Salazie as well as Cirque de Cilaos, however there is still no road access to Cirque de Mafate. Why people chose to live in these remote areas, is the same reason as for the slaves in Mauritius who fled to Le Morne Brabant, the slaves in La Réunion fled to these
inaccessible
part of the island. Simone was born in Cirque de Mafate and grew up there all there childhood. In order to get access to civilisation they had to walk for hours to get down to the valley and the coast. Nowadays helicopters do the work.
Simone then became quite serious and continued telling us about her husband who chose to leave her approx 10 years ago. The reason was for our ears quite strange. She was a true religious woman and 10 years ago she planned to do a pilgrim trip to France together with some friends. Her husband told that she was forbidden to do it, however her religion was so strong that she chose to travel anyway. When she came back, he had asked for a divorce and had arranged the papers already. She can only guess that he was jealous and that he did not rely on his wife travelling abroad (however she still was in France…). Still today Jacky's farther lives on his own, as well as his mother. What a fate. She was fascinating to listen to.
And Jacky continued with his jokes.
After a few rum punches we thanked very much for their time and for the rum punch and said good bye many times.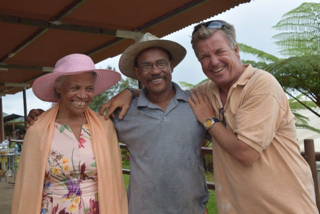 What a lovely unpredicted and fun visit up in the mountains!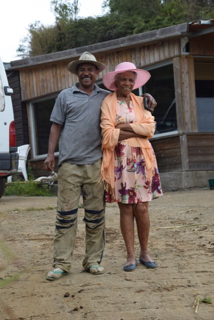 We drove down and tried to find some place to at least have a sandwich...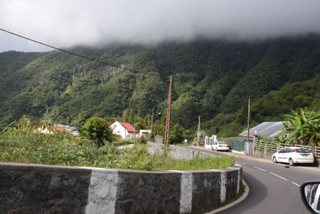 … which we did. We found a boulangerie with baguette, cheese and ham. Quite French.
In the evening we enjoyed a better meal and had dinner at the Dodo restaurant nearby the marina together with Sandvita and Victor.
---