New Year's Eve at Marigot Bay

Take Off
Jörgen Wennberg
Mon 4 Jan 2016 03:42



After leaving Martinique we left for St Lucia and aimed for Rodney Bay for a night before arriving in Marigot Bay. Coming back to our routines, first thing in the morning was to change flag to St Lucia.



Fabulous New Year's Eve Celebration in Marigot Bay with our friends Marie and Clas who had brought duck liver served on apple (yummie!!) and Champagne. Yes a real New Year's Eve as it's meant to be!
Marigot Bay gave us the most spectacular fire works we could ever imagine to see in the Caribbean! We had promised to wake up Alex for the fireworks but we did not have the courage to wake him up. Or we hoped that he was sleeping… In the morning he reminded us that the fireworks woke him up and he was waiting for us to come and fetch him because he was too afraid to got out by himself…. sniff. We ended up celebrating the 12 strike at the Hurricane Bar.
Our New Year's Message to all of you! "Happy New Year and we wish you all the best for 2016!"
The rest of the stay in Marigot Bay we spent fixing, fixing and fixing more work on the boat. We got great great help from Clas and Marie spending their holidays helping us fix several things on the boat. A big thank you ;-)!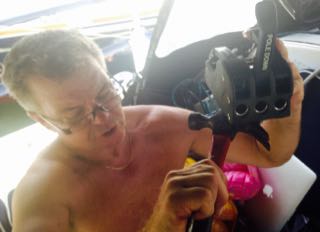 We also took the time to relax by the pool belonging to the marina. Such a luxury!
Marigot Bay is one of a kind. A must to visit if you're in St Lucia. Beautiful, friendly and relaxing.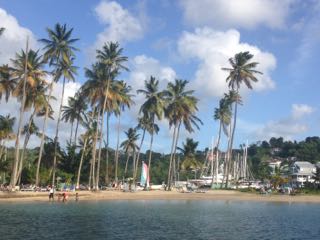 One of Caribbean's best best restaurants, Rainforest Hideaway, who's chef Åsa is Swedish is definitely worth a visit. The most tasty Rum Punch with Blue Curacao and the menu gave us a few surprises such Lion Fish being one of the sea's most poisonous fishes if you touch it, however the meat is delicious!
The last night before leaving we got more or less suffocated by extremely bad diesel smell stuck into the mangrove close to our boat. The marina had accidently poured diesel into the water when filling up one of the huge luxury yachts. The smell was unbearable and the marina staff asked if we wanted to have a hotel room instead…. well why not? ;-)… so we woke up the kids and ended up here instead for a night. This will be the closest a real bed we will sleep in for a while. So yes we were easy to convince not knowing when we will sleep in real bed next time…
Last sundowner at Marigot Bay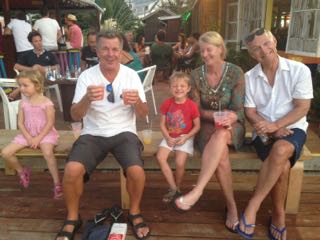 Leaving Marigot Bay on the 4th of January to Rodney Bay.
with our friends Marie and Clas!
<
---